Academics' Choice Award™ Winner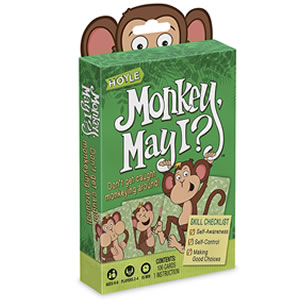 Hoyle Monkey, May I?™
Ages: 4 - 6
Price: $5.99
Type: Game
By
United States Playing Card Company (USPC)
Description
Don't get caught monkeying around! Hoyle Monkey, May I?™ helps kids 4-6 learn about making good choices, self-control, and self-awareness. This fun game offers multiple levels of play and different ways to play to increase value and repeat play. It helps to provide age appropriate skill building. The game is easy to learn, played in 15 minutes and FUN for both child and parent.


Review Highlights:
Monkey May I? was a fun way for us to talk about making the right decision. My son found confidence in choosing the right action. We also had fun acting like monkeys! The cards had fun illustrations and they were well made. Some cards in games like these are flimsy and easy to rip but these cards are a bit thicker with a smooth surface. Overall a fun and easy card game for young kids!
This was a simple, easy to use card game for my kindergartner. We had fun mimicking the monkey cards. Level two was a bit more challenging for us. I modeled how to interpret each card. It was good to see my child try to recall something he learned at school after he chose the Stop and Think Card. Overall, it's a simple, quick, and enjoyable learning game we use right before bedtime.
The game helps kids practice decision making, matching, and making good choices.
I like how simple the set up and directions were. The illustrations were fun too! We liked matching our expressions with the monkey!
Buy this product at:
As an Amazon Associate we earn from qualifying purchases.