Academics' Choice Award™ Winner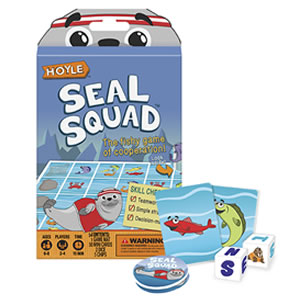 Hoyle Seal Squad™
Ages: 6 - 8
Price: $5.99
Type: Game
By
United States Playing Card Company (USPC)
Description
Hoyle Seal Squad™ is the fishy game of cooperation by encourageing teamwork, simple strategy, and decision-making for kids 6-8. Players must work towards a common goal which provides age appropriate skill building in decision making and strategy. Easy to learn, played in 15 minutes, and FUN for both child and parent.


Review Highlights:
I love the opportunities for teamwork with this game. A team (2-4 players) has to decide where to move seal chips in order to keep the walrus from eating the fish. I love that compass direction skills are reinforced (N, S, E, W) and that players have to use the terminology on every turn. Kids have to communicate with each other to solve a very simple problem and this is so exciting to watch. A group of kids of mixed ages could play together and this would give older kids a chance to practice leadership and empathy as younger kids' reasoning skills might not be as well-developed. This is a super fun game, I'd highly recommend it to other teachers and parents!
This fun game teaches teamwork, forming simple strategies, and decision making. I love that up to four children can play this game together. Not only do they play together, but they need to cooperate and make decisions together to win the game.
I am a homeschooling mom of 6 daughters, so we have played plenty of games over the years. This game is a pleasant surprise and change from the usual board/card games that only seem to create fierce competition between my children. The game requires teamwork and cooperation to be able to beat the walrus and win the game. My girls were a little older than the recommended age, but they still enjoyed playing this game. Most importantly, I didn't hear them argue once while playing it!
Seal Squad is very easy to learn and even includes "quick reference" cards so you don't need to keep rereading the directions to figure out what to do. The best part is that there is a lot for children to learn from this game. It does teach teamwork and cooperation, but it also teaches them how to form simple strategies, make decisions, follow directions, and practice learning geographical directions (north, south, east, and west). Gameplay is fairly quick as well, it only takes about 15-20 to play. This game would not only make a great gift or stocking stuffer for a young child, but it would also be an amazing gift for a teacher, counselor, or therapist.
This game is so colorful and engaging. My kids were immediately drawn into play. I love the durability of the gameboard (fabric). Map skills are used and this was a pleasant surprise.
Buy this product at:
As an Amazon Associate we earn from qualifying purchases.