Academics' Choice Award™ Winner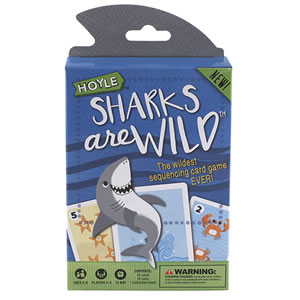 Hoyle Sharks are Wild™
Ages: 4 - 6
Price: $5.99
Type: Game
By
United States Playing Card Company (USPC)
Description
The wildest sequencing card game EVER, Hoyle Sharks are Wild™ helps kids 4-6 learn to build sequences, identify numbers and simple strategy. Offers multiple levels/types of play to increase value and repeat play while providing age appropriate skill building. Easy to learn, played in 15 minutes and FUN way for both child and parent.


Review Highlights:
This product teaches numeracy and numerical sequence. This game is easy to play, colorful, and inviting. Honestly, there wasn't anything I didn't like. This game has easy set-up, is fun, and, because it has two levels of possible play, allows for kids of all ages to team up and enjoy together. This is one of those simple yet engaging games that every home needs for a rainy day.
This is good game for a very young child to learn about numbers in a sequence. It could be a good stocking stuffer for the holidays. It will help your child learn about number sequences.
It was very easy to play.
Buy this product at:
As an Amazon Associate we earn from qualifying purchases.