Academics' Choice Award™ Winner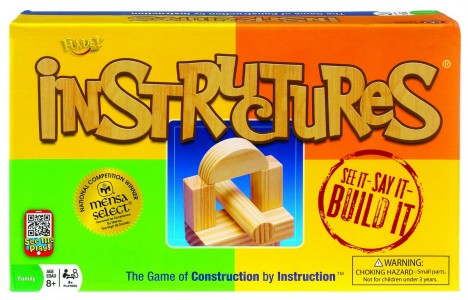 Instructures
Ages: 8 and up
Price: $24.99
Type: Game
By
Ideal®
Description
Do you have a budding engineer or architect in the family? If so, this construction game from Ideal® is the perfect gift! A winner of the National Competition for the Mensa Select® Award, this is an educational game that is proven to be both fun and challenging. Teams must race to build the structures shown on the cards by using only the verbal instructions the Foreman of the team provides. Watch out, included on the board are Blind Challenges, Silent Challenges, Memory Challenges, and Clock Challenges. This educational game not only helps players strengthen their problem solving skills, it also helps strengthen communication skills as well – both important for all ages. 4 or more players.
Review Highlights:
This game has been a hit in my 4th grade classroom! My students love it!
Instructures is a highly educational game for the thinking student. This game develops verbal comprehension, communication, logic, analysis, and sequencing to name just a few. After my class played a few times, I had them write the instructions on how to build the block design. Although they didn't like that as much as just competing in small groups and using verbal cues, I know it will help them to become better writers as well. This is a brilliant game and will be in my classroom for years to come.
Buy this product at:
As an Amazon Associate we earn from qualifying purchases.