Academics' Choice Award™ Winner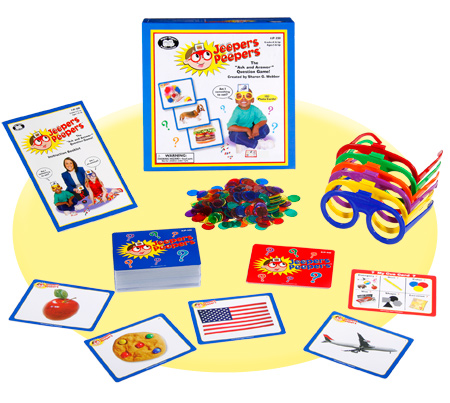 Jeepers Peepers
Ages: 5 and up
Price: $29.95
Type: Game, Puzzle, Hands-On Toy
By
Super Duper Publications
Description
Am I a monkey? A hamburger? An astronaut? How many questions will it take to find out? That's the question on everyone's minds—or glasses—in Jeepers Peepers, The Ask and Answer Question Game that builds questioning skills, describing skills, categorizing skills, problem solving skills, and more! Have one child put on the glasses. Place a photo card in the Peepers slot without showing it to the child. Have the child face the other players and ask yes/no questions to find out what he/she is. Then, have everyone play! Jeepers Peepers comes with 101 photo cards in five categories: Animals, Food, People, Things, and Transportation. Jeepers Peepers also includes: 6 pairs of Jeepers Peepers glasses, "My Cue Cards", spinner, bingo chips and instruction booklet.
Review Highlights:
My 5 year old loves this game! Little does he know that he is becoming a master at associative reasoning!
Jeepers Peepers develops question strategy, identification, classification, and problem-solving that will benefit the child both inside and outside of the classroom.
My children played this game every day for a week straight! They had a wonderful time guessing and asking questions. This game should be in every classroom. It would be perfect for those rainy day recesses!
Jeepers Peepers is a fun variation on the traditional game 20 Questions.  Players put on a pair of bright glasses and another player inserts one of the 101 colorful photo cards in the slot at the top of the glasses.  The cards are clear, unambiguous, and colorful photos of a single object on a white background.  Players then ask yes/no questions to try to guess their object.  An electronic spinner is included that you are supposed to use to find out how many chips you get for guessing correctly.  Our spinner did not work out of the box and I was unable to use the included screwdriver to unscrew the back of the spinner as it did not seem to fit the diameter of the screw.  The spinner probably could have been replaced by a simple manual spinner, but we found we didn't need it at all.  We simply handed out a plastic chip to the person who guessed correctly. In a classroom situation, I had all the students in a group put on the glasses and gave everyone a picture to guess as we took turns answering questions (a variation noted in the directions).  As a teacher, I especially liked the "Cue Cards" that remind children of the types of questions that they might ask.  This extra really increased the educational value of the game.  The photo cards are great for language development and the company website includes an add-on set of 101 additional cards.  Because there are six pairs of glasses, two or three small groups of children could play this game at the same time.  The cards are on sturdy, glossy tag board and the glasses are made out of a slightly flexible plastic that will hold up well under classroom use.  The students I tested the game on (5-6 year olds) abandoned the plastic chips and just enjoyed trying to guess what object was in their glasses.  They also tended to ask more detailed question than just yes/no questions when playing without direct supervision, but they were still using come great critical thinking skills.  Overall, I recommend this game for developing logic, observation, and analysis skills and feel it will hold up well to repeated classroom use.
Buy this product at:
As an Amazon Associate we earn from qualifying purchases.