Academics' Choice Award™ Winner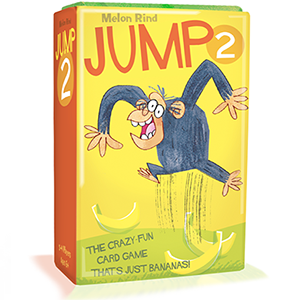 Jump 2
Ages: 6 and up
Price: $19.99
Type: Game
By
Melon Rind
Description
A lively number topping card game reinforcing multiples of 2. Players give cards away if their card is 2 more or 2 less then the last card. Everything stops with the Chimp Card! Cards jump to a new number and the action begins again! There are two different ways to play. Game includes 66 cards and 2 sets of rules.


Review Highlights:
Jump 2 is truly a fun educational game for the targeted age group. It is very colorful with a cute design. With clear directions, it is simple to learn and encourages kids to master one discrete skill (skip counting by 2's). I love how there are two versions (rule sets). It starts with the "Cool and Clever" version where kids can take there time with the math. Once mastered, they can switch to the fast-paced, more competitive "Fast and Furious" rule set where speed in finding the correct number is added to the gameplay.
A great travel game the whole family can play together! There are two ways to play, we enjoyed the "fast and furious" way to play. If you have a child learning to skip count by 2s the "cool and clever" way is a fun way to reinforce learning. The cards are durable and the storage box is sturdy and fun.
Children learn and practice math (skip counting by two from 2 - 20, adding and subtracting by 2), taking turns, following rules, and strategy.
Buy this product at:
As an Amazon Associate we earn from qualifying purchases.