Academics' Choice Award™ Winner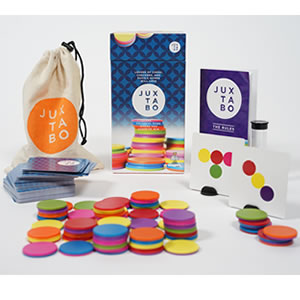 Juxtabo Game
Ages: 6 and up
Price: $29.99
Type: Game, Toy
By
Funnybone Toys
Description
LOVERS OF CHESS, CHECKERS AND PUZZLE GAMES WILL LOVE JUXTABO!

THE COLORFUL GAME WHERE YOU STACK TO WIN

Juxtabo is a fun 3D game where players match and stack colorful pieces to create patterns on the challenge cards. The board is different every single game, because players create the board with Juxtabo pieces.

Thatís right - players literally create the board by randomly drawing Juxtabo Pieces from the bag. And the players choose the board size: a 4x4, 5x5, or 6x6 grid!

As the game goes on, the board grows, and it starts to look like a colorful mountain range. The player with the most challenge cards completed at the end of the game wins!
Review Highlights:
Juxtabo promoted visual discrimination, logic, pattern matching and creative thinking in a fast-paced venue. Problem-solving definitely came into play with this product, as strategies were developed and then adjusted as other's took their turns.
It's a highly engaging puzzle game. Variations on rules allow for a variety of play scenarios, from short to long and easy to challenging. Colors are attractive and set up is easy. This game has quickly become a family favorite. We love the challenge creating and finding patterns. The variations have allowed us to challenge our older children while accommodating our younger ones. I feel like I can see the neurons making new connections in my children's brains as they play this game!
We all enjoyed the aesthetics of the Juxtabo pieces, and the challenges presented in playing this game. Great family night game. In general, we felt this was a game that could be highly enjoyed by those who enjoy visually speedy and colorful games, and frustrating to those who aren't as visually acute, or dextrous (however, that could be handled by eliminating the timed aspect, an possibly lowering some of the playing stacks as pieces are added). All in all, my family feels that this is a very fun game that engages parts of the brain that aren't stimulated as much by word games, or other "pattern" games that we enjoy. It's a keeper!
Buy this product at:
As an Amazon Associate we earn from qualifying purchases.