Academics' Choice Award™ Winner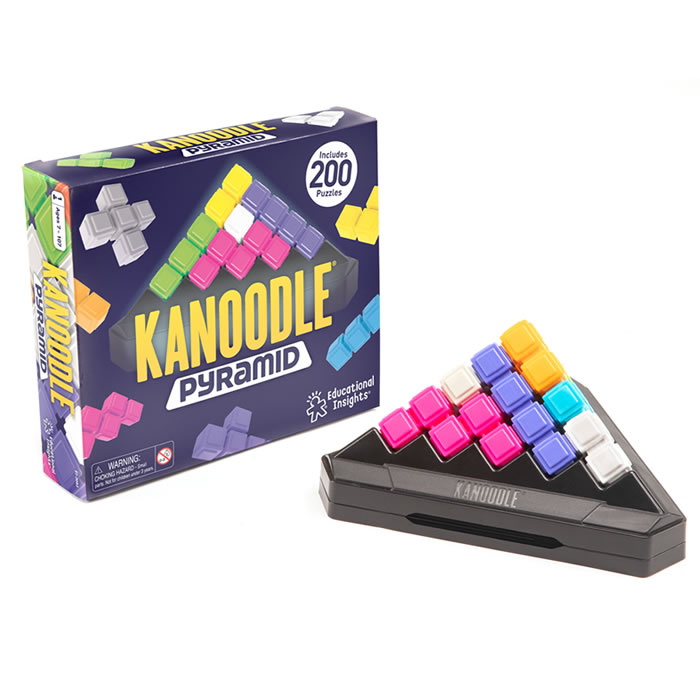 Kanoodle® Pyramid
Ages: 7 and up
Price: $24.99 USD
Type: Game
By
Educational Insights
Description
Kanoodle Pyramid features a multi-player, tabletop board and unique, geometric pieces that fit together to solve 200 2D and 3D puzzles. For players ages 7 to 107, this brain-teaser is a perfect collaborative game for parties and family game night. Children and adults can exercise their brain by solving Kanoodle Pyramid to build strategy, learn critical thinking, and problem-solving skills.



Review Highlights:
This is a 3-D, hands-on, Tetris game! It was easy to get started and hard to put down. My son enjoyed problem solving and using logic to complete the puzzles. Some were easy, so we started with those, then we chose some more difficult designs. This is a fun puzzle game for kids who are engaged by hands-on logic and spatial reasoning exercises.
This is a perfect game to have in your classroom. Kanoodle Pyramid is a hands-on logic puzzle that kids will enjoy. I brought it to class and kids loved it! Overall, I liked the Kanoodle Pyramid and recommend it to others interested in hands-on problem solving and logic puzzles.
The product is small, colorful, made of high quality plastic that did not leave any marks on my white kitchen table. It keeps my child entertained for pretty long stretches of time. It is worth noting that my child is 13 and thoroughly enjoys puzzles, logic games, strategy, and artistic pursuits. Though probably created with younger children in mind, this product was also fun for my older son.
Children use logical reasoning and creative problem solving to put the pyramid together on both sides of the 3D puzzle.
Buy this product at:
As an Amazon Associate we earn from qualifying purchases.