Academics' Choice Award™ Winner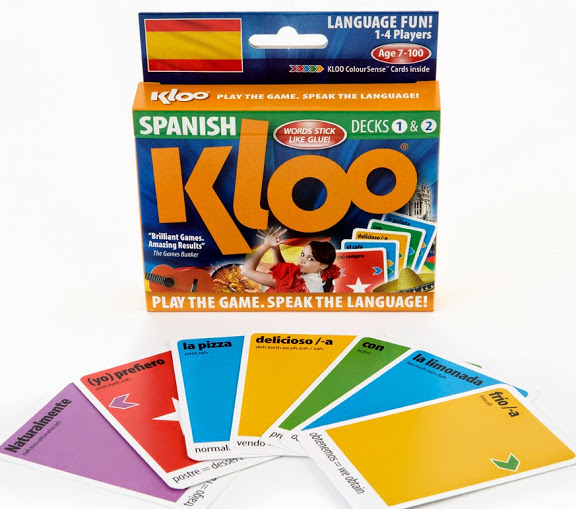 KLOO Language Games in Spanish
Ages: 6 and up
Price: $17.99
Type: Game
By
KLOO Games
Description
KLOO has turned learning a language into a game. Using KLOO unique playing cards, players make sentences and learn words in Spanish to score points. The longer the sentence and the more words you learn, the more you score. In this way, KLOO makes learning a language fast, easy and a lot more fun. But there is no need to be a language expert in order to play - you can start playing KLOO as an absolute beginner - just be ready for how fast you pick up the language! Within a few games, players effortlessly learn hundreds of words and how to make tens of thousands of sentences. This pack contains two decks of KLOO cards (Decks 1 & 2). Each deck contains useful Spanish words for making sentences around the themes of "Clothing" and "Eating & Drinking". As players learn all the words in one deck, they move onto the next, building their vocabulary as they go. Within just a few games, players learn how to make thousands of sentences quickly and easily.


Review Highlights:
This game was developed to help students master the vocabulary and sentence structure of Spanish. Using the cards we tried to make sentences and create a pseudo-conversation based on the cards we held in our hands.
I liked practicing my rusty Spanish vocabulary with my daughter. She is taking Spanish for the first time, but did rather well. There were many words that neither of us could figure out initially, but as the game play continued we discovered their meanings. We were quite proud of ourselves. It was a fun and relatively quick game. We plan to continue playing at least once a week.
Buy this product at:
As an Amazon Associate we earn from qualifying purchases.