Academics' Choice Award™ Winner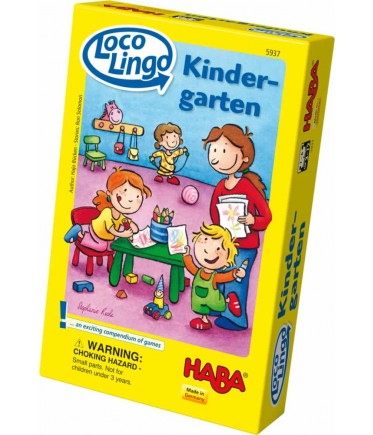 Loco Lingo Kindergarten, Loco Lingo Fastgrasp & Loco Lingo Building Site
Ages: 3 and up
Price: $12.00 - $24.00
Type: Game, Puzzle, Book
By
HABA
Description
Loco Lingo Kindergarten - Ages 3+ - $12
Get tots ready for school with these adorable 10-minute games that are really lessons hidden among picture cards, stories, poems and concentration (Focus Pocus). 12 familiar objects like scissors, slippers and building blocks are centered on illustrated cards along with 3 wooden figures. Children or a grownup can read aloud one of five games at a time. In Rhyming Riddles, my pants have zippers but my feet wear ____. A detailed game booklet along with a color die, cards and wooden figures are included.

Loco Lingo Building Site - Ages 3+ - $12
To loosen bolts or straighten wires, I just use my trusty ____. The rhyming riddle is just one of five fun word games that's packed into this construction-themed game where tools, clothing, and materials are not the type you have lying around the house. Work boots, hard hats, cement and power drills are sprinkled among stories, poems, rhymes and riddles. Pick one or all games depending on who's around the kitchen table. Concentration, memory, language skills and imagination all are rolled up between the hammer, bricks and tool belt picture cards.

Loco Lingo Fastgrasp - Ages 3+ - $24
What can climb a tree much faster than you? asks this fast game of reflexes, imagination and concentration. Spread the 19 wooden figures on the table top -- ranging from red squirrel to green apple. As one of the five suggested games is played aloud, tots can point or quickly grab the correct answer. How fast can you go? The game booklet contains 12 different stories, poems, and groups of riddles. Of course, you can invent your own stories to match the many wooden figures.
Review Highlights:
HABA's new product, Loco Lingo, would be a great addition to any parent, teacher, or homeschooler's reading curriculum. The series (Kindergarten, Building Site and Fastgrasp) offers manipulatives to aid in the development of a young child's (3-5) reading comprehension skills. The children and teacher choose one of the 5 games to play. After they have chosen the game, they pick a story, poem, or riddle to be read aloud. As the teacher reads aloud the children have to listen to the passage carefully and be ready to grab a figure as soon as that figure is mentioned in the story. For instance, Loco Lingo Fastgrasp comes with small wooden figures that resemble horses, turtles, cows and squirrels. Once the reader mentions one of these animals the listener must grab the figure before the others. This game-like activity could work well with children that need a bit more competition in class. The approach aids in the development of concenttraiton and focus. Without a doubt many children need to physically do something while being read to. Many like to be more active while hearing a short story, poem or riddle. If you are looking for something that will help keep a child's attention on the story while being read to, this would be the learning game to purchase.
A group of kindergarteners played this game in one of their centers. The "warm up" activities were fun for them to play to get to know the items. The children enjoyed the riddles and rhyming activities.
Fastgrasp was a fun game for my kindergarteners to play. The "warm up" exercises were good to help the children become familiar with the items. There were many good games meant to develop listening skills and encourage thinking. The children especially liked the riddles and poems. They would enjoy playing this game again. It would be appropriate up to about age 7. The target ages would be ages 3-6.
Building Site was valuable in teaching children the names of various "construction tools." Both the boys and the girls were interested in learning the names of the items. The children enjoyed the games that were the riddles and the rhymes. The instruction booklet had many good games to play. This game would be appropriate through about age 6 or 7.
Buy this product at:
As an Amazon Associate we earn from qualifying purchases.