Academics' Choice Award™ Winner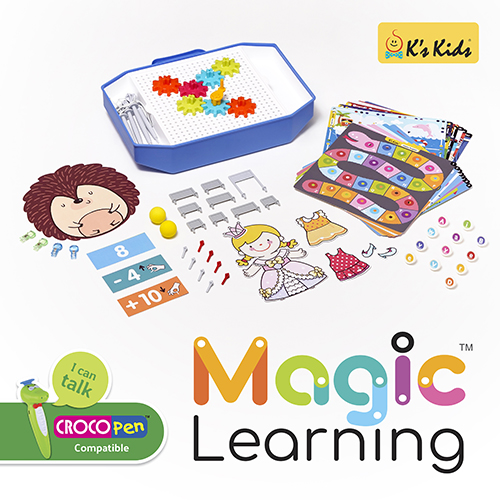 Magic Learning
Ages: 3 - 6
Price: USD $76.90
Type: Game, Toy
By
K's Kids
Description
Magic Learning is a 6-in-1 educational box set designed for children aged 3-6. It is a great training tool for children because it's designed to encourage their development across Physical, Cognitive, Social area. It consists of 6 fun and educational games that allow parents to join in and play with their kids at home, in addition to a set of learning materials that can be used in school.



Review Highlights:
We absolutely agree with Karen, the founder and creator of K's Kids Magic Learning, that a good early child development toy should provide sensory stimulation, capture a child's attention, and motivate a child to play. Magic Learning delivers on that premise and more. It's a delightful cross-curricular multisensory kit that encourages exploratory and structured play. We love that it's based on Piaget's, Erikson's, and Montessori's learning theories. K's Kids internationally patented Learning Triangle model (Physical, Cognitive, Social) is worthy of praise and the application of these developmental areas are well implemented in Magic Learning. (Side note: Academics' Choice Awards criteria evaluates these same developmental areas and more).
Magic Learning includes six educational games (all cleverly packaged into one convenient kit) including: Amazing Maze (body balance and control), Gear Factory (fine motor, creativity), Happy English (alphabet, upper and lower case letters, letter-object association, and spelling), Math Attack (counting, addition, subtraction, odds and evens, counting by 10s), What to Wear (body awareness, attire for weather and various occassions, creativity, matching), Clip & Hang (role playing, self-care, hand-eye coordination, imagination). My daughter loves it and she uses chooses to use it regularly! I love that it's screen-free, focuses on free-play first and foremost (yet offers lots of structured learning) and that all the colors, gears, clips, and other manipulatives keep her highly engaged. There is also a Leapfrog-like optional CrocoPen add-on that will say the word/letter/number/object out loud when the pen touches the board.
Magic Learning helps young children develop beginning math skills and helps them learn the alphabet and vocabulary. They develop motor skills in all of the games and learn logical thinking through Amazing Maze and Gear Factory. They develop social skills and learn about self-care through determining proper clothing.
Magic Learning practices so many skills. Students are always improving motor skills as they play every game. It's very efficient because the same parts are used for different games.
This is a fantastic kit for young children. The activities motivate them to repeatedly practice the basic skills young children need to develop. Each activity is designed to develop skills in different areas. It's great that it develops fine and gross motor as well as social emotional skills. The materials are colorful with adorable illustrations. It's very durable.
I liked that there were so many different activities that could be used with a wide range of ages. I have a preschooler and two toddlers and this game/toy works for all of them. Plus, they can use it for a few more years because there are some more advanced math and literacy games. I like the carrying case, so all the supplies can stay in one spot.
Magic Learning is an ideal STEAM (Science, Technology, Engineering, Art, Math) toy.
Buy this product at:
As an Amazon Associate we earn from qualifying purchases.