Academics' Choice Award™ Winner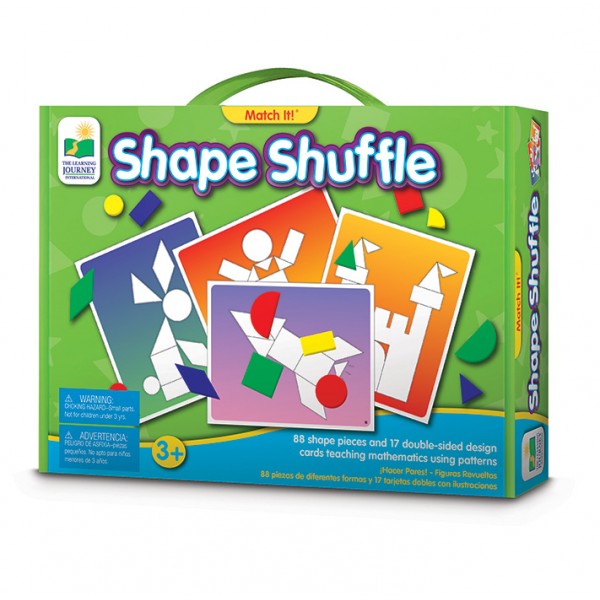 Match It! Shape Shuffle
Ages: 3 and up
Price: $12.99
Type: Game
By
The Learning Journey International
Description
Children of all ages will find Shape Shuffle fascinating as they create puzzles and designs from geometric shapes. The game offers many ways of learning about shapes, patterns, fractions, sizes and colors. Children will strengthen their problem solving, fine motor and creativity skills as they progress through the varying levels of difficulty found on the design cards. The set includes 88 shape pieces and 17 double-sided design cards. Recommended for ages three and up. Bilingual English and Spanish packaging.


Review Highlights:
Shape Shuffle is very colorful and had puzzles that everyone in the family could enjoy regardless of age. Children develop visual perception, learn shapes, colors, and even fractions.
The instructions were clear, the materials we were given to use were well made, and appropriate for the age specified on the product.
I really liked the additional suggestions that Shape Shuffle makes in its instructions. My family has used tangrams before, but a few of the suggestions that were given in Shape Shuffle never crossed my mind before. These suggestions helped me to appreciate the versatility of tangrams more than before.
While this is a small thing, I appreciated that the packaging was designed for reuse and storage. Inside the box there were compartments if you want to have your child sort the figures by color, size or shape. Even after "someone" opened the box incorrectly, we were still able to seal it back without losing any of the pieces.
Buy this product at:
As an Amazon Associate we earn from qualifying purchases.