Academics' Choice Award™ Winner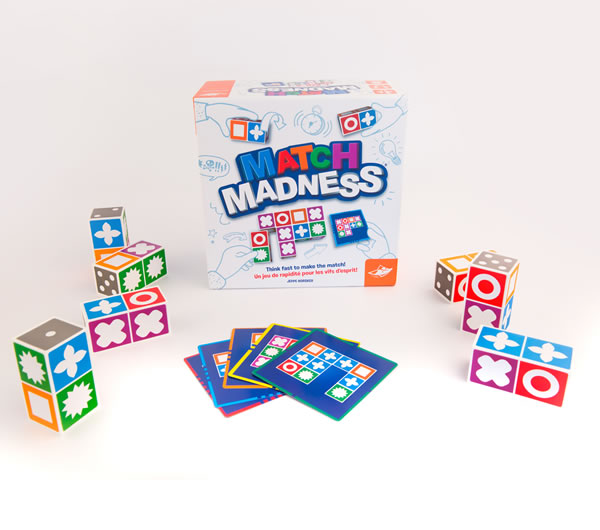 Match Madness
Ages: 7 and up
Price: $29.95
Type: Game
By
FoxMind Toys & Games
Description
Let the furious fun begin! Players sprint to arrange a set of 5 blocks so that they match a pattern shown on a card. First player to succeed grabs the card and a new matching race starts. Tensions rise as you scramble to outpace and outsmart your opponents in this ingenious game of perception. So fire-up your neurons and be transported by Match Madness!!


Review Highlights:
Match Madness is an engaging game that is fun to play and quick to learn. The setup is minimal, rules are easy to learn, and it's a game the whole family can play (between 1-4 players). I can see this game being a huge hit in any of our Kindergarten through 5th grade classrooms as a go-to indoor recess game. It can be played alone by just simply trying to recreate what's shown on the puzzle cards, or up to 4 players to race and recreate a match the quickest. The pieces are a great size, light weight, and sturdy. The pattern shapes are bright and easily discernible. The varying levels of patterns to recreate/match make this appropriately challenging for a range of ages, even adults.
This game allows for practice using picture cards and physical blocks in color/shape sorting, pattern recognition, spatial relationships, and processing speed. It also develops flexibility in thinking and the ability to change mindsets to problem solve. Because of the complexity, it also helps develop frustration tolerance and requires good sportsmanship in playing against others who may be more facile in seeing visual-spatial relationships.
This is an attractively packaged game with a sturdy box, laminated cards and colorful blocks to use to match each puzzle. The directions are clear and there are 4 sets of matching blocks clearly labelled so that 4 individuals may play together. There are 5 sets of cards of different difficulty levels, clearly indicated, and 12 cards at each level, offering many different challenges to work through.
This game can be used individually as a set of puzzles to learn/improve on each of the skills involved in playing the game. The advantage of this is that it does not require processing speed or the relative equality of different players in these skills. Recommended age is 7 and up but may in fact be difficult for players that young. Good up to any age but probably most enjoyed by children ages 8-12.
This game is great fun and also very good for children who may lack executive functioning and visual perception skills. Players have to think quickly and match the patterns before someone else does.
The game is easy to set-up and understand. It's simple and colorful, making it appealing to younger kids, but also fun/competitive enough that older children, teens and adults like it too.
Children learn and practice, eye-hand coordination/visual motor skills, visual perception skills, sorting, pattern recognition, spatial relationships, processing speed, logical thinking, and more!
Buy this product at:
As an Amazon Associate we earn from qualifying purchases.