Academics' Choice Award™ Winner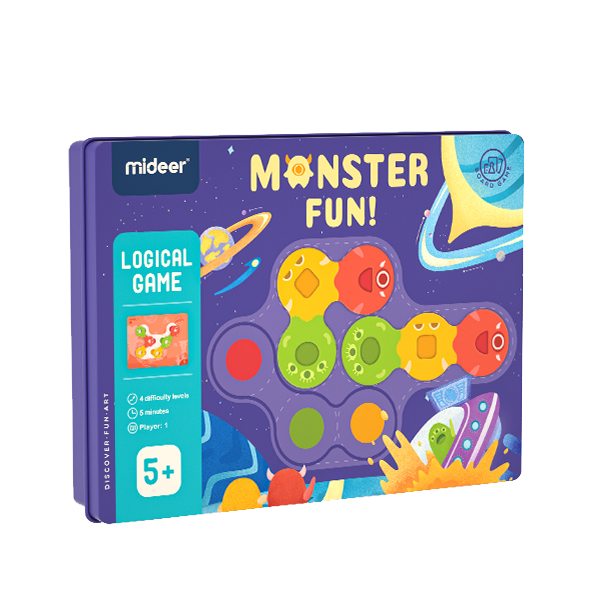 Logical Game - Monster Fun!
Ages: 3 and up
Price: $13.99 USD
Type: Game, Board Game
By
Ningbo Mideer Toys Co., Ltd.
Description
LOGIC TRAINING CARD includes ten aspects, such as visual observation, comparative classification, rule reasoning and so on, which fully enlightens children's mathematical logical thinking. It's divided into four stages that allows for shallow to deep logical thinking practice. Each game is combined with a story, which makes learning mathematics feel more like play.


Review Highlights:
Only when the little monsters work together to complete one task after another can they safely leave the mysterious and dangerous planet. It's Monster Fun! Great for all ages - my 3-year-old, 5-year-old, and 64-year-old mother all had fun playing! It doesn't require batteries or wifi. It's not loud for your child to play (great for parents working from home) and it can be played autonomously from start-to-finish. This game requires logical reasoning skills involving combining 2 factors and 2 positions (color and front/back) to achieve the correct orientation of the pieces as well as visual motor skills to place the pieces correctly. Children practice spatial orientation, logic, mathematical reasoning, creative problem solving, and team work.
This game has 4 levels that get progressively more challenging so that it is appropriate for boys and girls through age 12. Levels 3 and 4 have enough different images to construct to allow for learning over the course of the game and thereby maintaining engagement. The metal box keeps the pieces securely stored and provides the magnetized pieces a nonslip work surface. The pieces are high quality and should hold up well. This game is fun to play and can be enjoyed repeatedly. Once understood, it can be played independently (without supervision) throughout the intended age range. I loved that there were multiple levels of difficulty.
Cute game that would work well when traveling or waiting somewhere. My almost 4 year old was able to do the beginning levels and my 6, 8, and 9 year olds enjoyed all the levels.
Buy this product at:
As an Amazon Associate we earn from qualifying purchases.