Academics' Choice Award™ Winner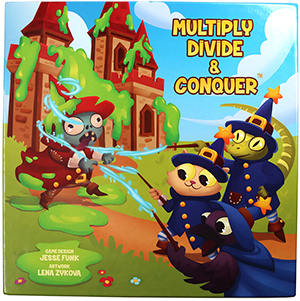 Multiply, Divide & Conquer
Ages: 8 and up
Price: $29.95
Type: Game
By
da Vinci's Room
Description
Multiply, Divide & Conquer is a single player or cooperative strategy board game focused on practicing multiplication or division skills as an inherent part of the game.

Players tackle the challenge of moving their blue math magicians away from the safety of their kingdom, through goo covered fields, battling enemy math magicians, all in an effort to reach the nearby kingdom's castle - destroy the goo - and save the day for both kingdoms.

Review Highlights:
I played this game with my three children (8 - 11 years old) and it's been a favorite on our family game night. Each player plays as a "Blue Magician", advancing across the board by practicing their math skills to defeat the "goo" covered zombie magicians. The kids can choose their difficulty level - from easy to chaos. I love that this game also offers variability because it can be played as a single-player game, or as a group. You also have the option to either play using only multiplication or only division, which is great practice for my children to hone in on those specific math skills. As a parent, Multiply, Divide & Conquer from da Vinci's Room hits all the marks - it's a great alternative to screen time and offers an educational yet fun activity for all three of my kids!
Makes math fun for kids! A player can play alone, or with up to four people. This flexibility is a plus if you have an only child (or only one child who needs to practice their math skills). The game is durable, unique, and visually appealing. If you are looking for an interesting way for your kids to practice their math facts (without boring flashcards or excessive screentime), this game is definitely a great option. The little magicians are cute characters that most kids will find appealing.
Buy this product at:
As an Amazon Associate we earn from qualifying purchases.