Academics' Choice Award™ Winner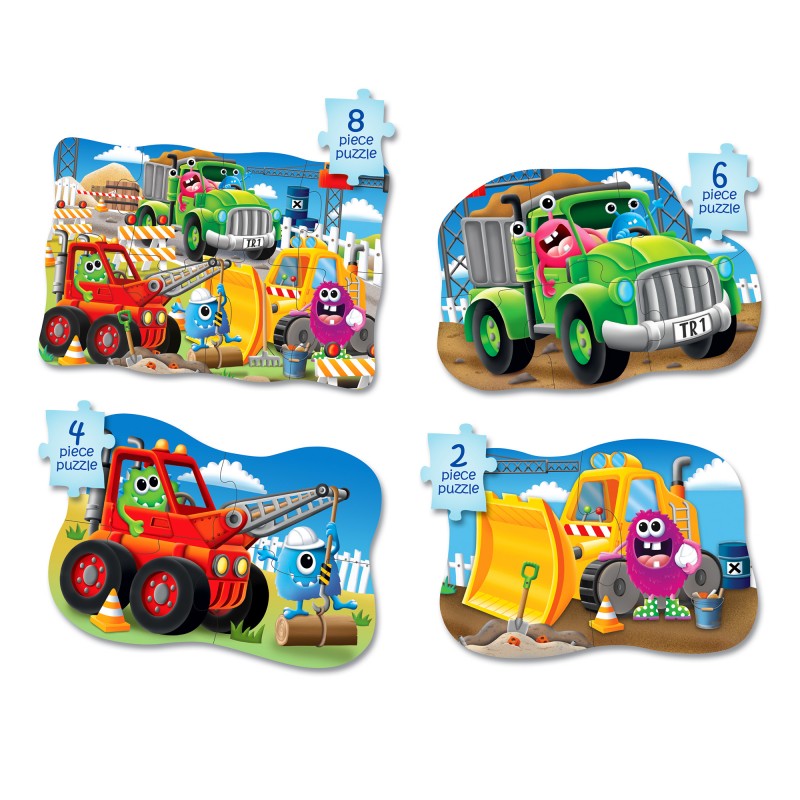 My First Puzzle Sets 4-In-A-Box - Monster Trucks
Ages: 2 - 5
Price: $12.99
Type: Game, Puzzle
By
The Learning Journey International LLC
Description
Learning is a "monstrous" feat, and My First 4 in a Box Puzzles are great "starter" puzzles and will help little hands develop their fine motor skills. What kind of vehicles do monsters drive? Monster Trucks! This set contains four fun puzzles portraying fun monsters in their favorite trucks. The puzzles progress from 2 pieces to 4 pieces, then 6 pieces and 8 pieces, giving your child the opportunity to grow with the set as they grow and develop. The 8-piece puzzle brings the characters from the other three puzzles together in one animated scene with lots to discuss and talk about. My First 4 in a Box Puzzles are a great way to help your toddler begin building their tactile and problem-solving skills. Each puzzle measures approximately 12.5" x 8.5" (31.75cm x 21.59cm). Ages 2-5 years.


Review Highlights:
The puzzles were brightly colored and engaging. These thematic monster puzzles are great confidence boosters for young children (best for ages 2-3). Children start with puzzles containing a small numbers of pieces, and as they become comfortable with the process of putting together puzzles, they move up to puzzles with 8 pieces.
The largest puzzle (8-pieces) allows your child to bring all the characters from the smaller puzzle together into one scene. It's very cute and toddlers will certainly enjoy it.
Skills learned or practiced include fine motor and hand-eye coordination, observation, visual spatial awareness, pattern recognition, patience, persistence, and logic/problem-solving (putting together puzzles).
Buy this product at:
As an Amazon Associate we earn from qualifying purchases.