Academics' Choice Award™ Winner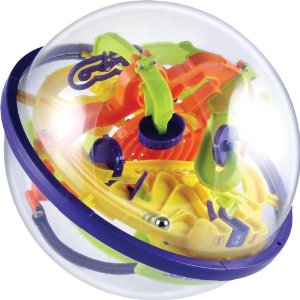 Perplexus
Ages: 6 and up
Price: $24.95
Type: Game, Puzzle, Hands-On Toy
By
PlaSmart Inc
Description
PERPLEXUS is a maze game where players maneuver a small marble around challenging barriers inside a transparent sphere. Unlike traditional flat-surface mazes that are composed of one path, PERPLEXUS houses various challenging tracks with 100 barriers providing a frustrating three-dimensional experience. Players select the track they would like to attempt and must work with gravity to carefully shift, flip, and twist the sphere to guide the marble. Players can race each other or the clock.
Review Highlights:
A 3-dimensional thinking skills game, Wow! This toy is not only great for eye hand coordination, visual spatial thinking, and patience; it is a wonderful gift for the family. My 15 year old daughterís friend brought hers over and they played with it for hours. The next day I went to the store and bought one for my son. No batteries, no loud annoying sounds, just the occasional, AHHH!!!! We love it!
Iím buying everyone a Perplexus for Christmas!
If you have a kindergartener, get the Rookie Perplexes! It has been hours of fun for my 7 year old son. He is determined to master it. If anything, he is learning patience and determination, two life long skills that apply to everything. If youíre a young at heart parent, buy one for yourself, but get the Epic Perplexus. It is awesome.
Buy this product at:
As an Amazon Associate we earn from qualifying purchases.