Academics' Choice Award™ Winner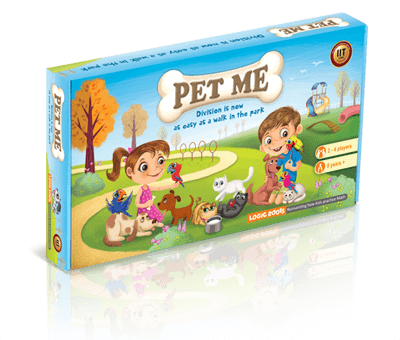 PET ME: Division is now as easy as a walk in the park
Ages: 8 and up
Price: $29.99
Type: Game
By
Logic Roots
Description
Kids do not want to practice math, especially when it comes to math. How many kids do you know who pick up Khan Academy or their text books on their own?

We realise that magic is not in the products but in people. So are building social math games that the family loves to play together. Excellence in math is a by-product. Kids get 20 times more math practice and banish math phobia.

PET ME is a division game for age 8+. The players go to the park and adopt pets. They feed them and receive love. In the process, they master division.
*** There is no need for kids to to know division before hand
*** 4 division skills starting from division as repeated subtraction to division by 1 digit numbers without remainder
*** Builds love for math and number for the entire family


Review Highlights:
Skills learned/practiced: core basic math skills (adding, subtracting, multiplying, division, division with remainder), strategic thinking as far as choosing the path to best meet your goals, observation to check the other players.
The storyline and colorful gameboard really appeals to children. Overall, great game as there are not many math-based, social games, that focus on division.
Buy this product at:
As an Amazon Associate we earn from qualifying purchases.