Academics' Choice Award™ Winner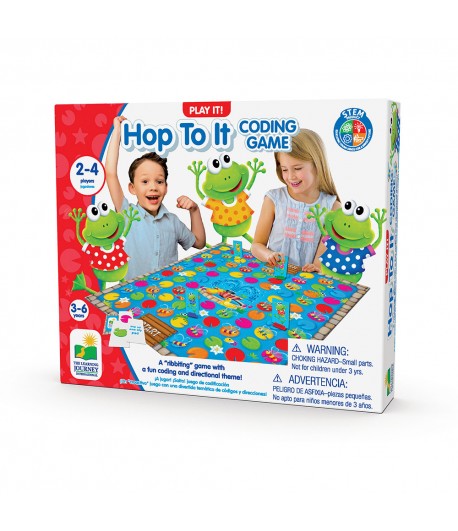 Play It! Hop To It
Ages: 3 - 6
Price: $16.99
Type: Game
By
The Learning Journey International LLC
Description
Hip! Hop! Don't Stop! Until you reach the other side of the pond! Kids will enjoy learning the basics of coding and sequences as they navigate their frog through the color-coded lily pads to get from one dock to another. Hop To It! is an introduction to spatial awareness and directions - as you move your frog up, down, left, right, and diagonally. And if you land on a dragonfly you get a bonus turn. Be the first to hop across the pond to the dock on the other side to win. 2-4 players. Ages 3-6.




Review Highlights:
The board is large and durable. It is very colorful with fun and cute designs. This game is an excellent way for children to practice following directions-especially if they struggle with learning right vs. left.
I liked that my child was problem solving and trying to decide the best path to make it to the finish. It was great practice for using directional phrases. The colors were bright and the theme of the board was perfect for my frog loving child.
Children practice reading and following directions. They must use their spatial awareness skills to move pieces across the board in order to win the game. Skills practiced were color matching, following directions, strategic thinking, and counting.
Buy this product at:
As an Amazon Associate we earn from qualifying purchases.