Academics' Choice Award™ Winner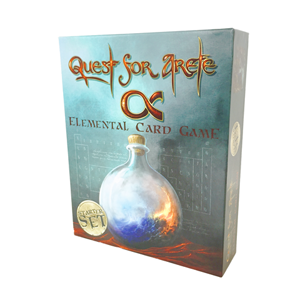 Quest for Arete
Ages: 12 and up
Price: $35.00
Type: Game
By
Quest for Arete, Inc
Description
Quest for Arete (pronounced ARE-a-Tay) is a beautifully illustrated game for 2 or more players age 12 and up. You are a sorcerer's apprentice, trained in the secrets of the elements. Arete, or Excellence, is your goal. Magical elements are your tools. To test your skill and increase your knowledge, you are honor bound to duel any other apprentice you meet. Custom-build your deck to enhance your strengths. Choose your character, defeat your opponents and prove your Arete!

The magical elements of Quest for Arete are the elements from the periodic table. Scores are based on the electron configuration of the elements and historical figures from chemistry are woven into the lore of the game. Quest for Arete is a fun and challenging game that takes the intimidation out of chemistry!


Review Highlights:
Quest for Arete is a beautifully packaged fantasy card game for children ages 12 and up. We received the package and immediately my son wanted to rip it open and look through all of the cards. The images and basic branding for the game are very enticing for boys at this age!
We decided to start simple and just make spells because game did seem a bit difficult at first. He was confused about how to make the spells until we re-read the directions and watched a video on how to do it. After we figured it out we started making spells. Once he became confident with that, we started to battle by adding up spells points. Any budding chemist would love this game! Overall the game was great and we had fun playing it.
When I taught first grade, I would do a problem of the day with my students. I always looked forward to the kids' answers and how they solved the problems. Since then I have wondered if there was such a thing for homeschoolers. And this is definitely what I was looking for. With the kids at our house we would use a card each morning. Each child would determine how they were going to solve the problems, write out their answers, and work through how they solved them. Such fun and a great way to start the morning.
This game definitely develops problem-solving skills, comprehension and analysis. The concept for play was intriguing.
Buy this product at:
As an Amazon Associate we earn from qualifying purchases.