Academics' Choice Award™ Winner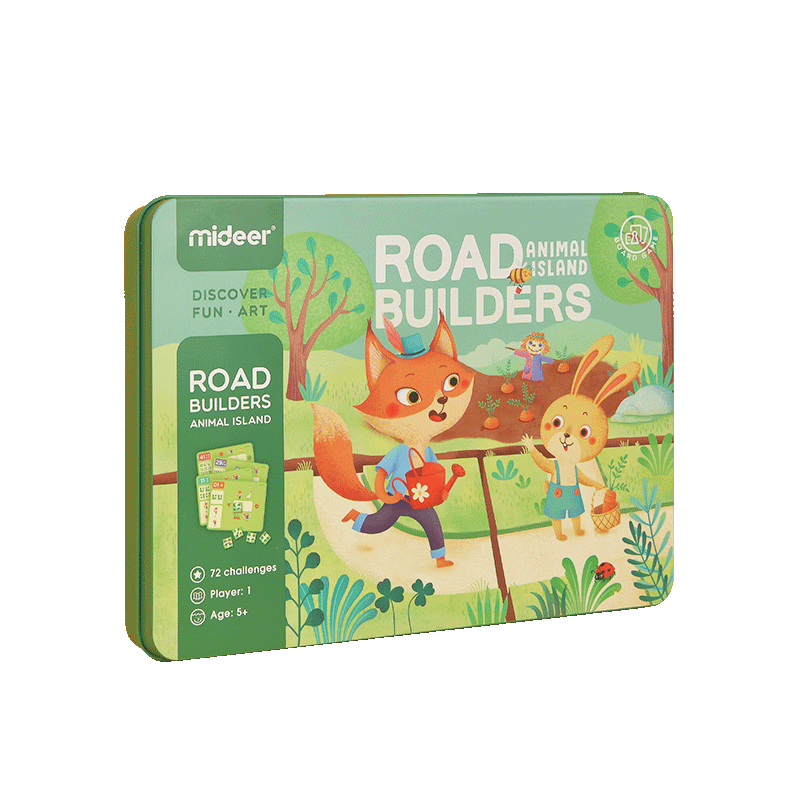 Road Builders Animal Island
Ages: 5 and up
Price: $22.99 USD
Type: Game, Board Game
By
Ningbo Mideer Toys Co., Ltd.
Description
ROAD BUILDERS ANIMAL ISLAND is an advanced logical thinking board game. Let children improve their ability to solve problems through observation, judgment and analysis. This toy combines board games and stories. Let the children help the animals solve the road problems. The game contains 36 cards, which are divided into 1-star to 4-star. The difficulty increases step by step, so that children can enjoy the fun of breaking through.


Review Highlights:
This game has been so fun for my nieces and nephews on our family board game nights. There are simple rules that are easy for them to follow that do not require reading. The idea here is that you are helping cute animals such as bees, ladybugs, cats, foxes, chicks, butterflies, etc., complete the road to and from each animal as indicated on each challenge card using only the tiles indicated (e.g. the road must go from the fox to the chicken and the butterfly to the ladybug). The only problem is the road isn't there - it has to be completed by the players. Players must correctly position the magnetic tiles (illustrated with various sections of roads) on the board to complete the challenge. There are 72 challenges of varying difficulty levels that allow children to gradually build their confidence.
Road Builders Animal Island helps develop spatial intelligence, observation, analysis, following directions, logical reasoning and problem-solving abilities. It's easy to start/understand how to play and the directions are visual (so no reading required by the child). We loved that it doesn't require electricity/battery life, children can play it autonomously or with a parent/friend, and that the board and tiles are made of quality materials, and it doesn't take up a lot of space (great for travel).
Buy this product at:
As an Amazon Associate we earn from qualifying purchases.