Academics' Choice Award™ Winner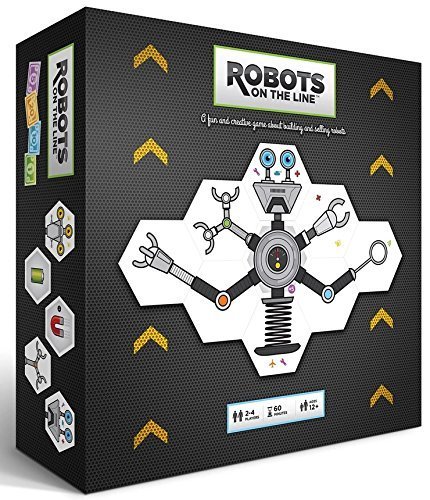 Robots on the Line
Ages: 10 and up
Price: $49.95
Type: Game
By
Golden Bell Studios
Description
Build Robots to buyer's requirements and sell them! Take turns pulling parts off the conveyor belt to create unique bots! Set collection, trading, and pattern building mechanics for ages 10 and older, this is a light strategic family board game. You're one of the lucky robot factory workers invited to an exclusive event. Your job? Picking refurbished or out-of-date parts to build robots that meet eager buyers' requirements. Sell your completed robots to earn points and achieve certain bonuses to earn even more points; but hurry because other players may be building a robot to sell to the same buyer first. Can you outsmart your opponents and assemble a four-wheeler robot with two heads, or a robot with six eyes and four hands before they do?


Review Highlights:
This is definitely a favorite for family game night!
This board games teaches manufacturing, money management (budgeting), following rules/directions, turn taking (cooperation), negotiating, analyzing information, formulating a plan, creativity, strategy, and critical thinking.
Robots on the Line is a board game the whole family can play. The pieces are colorful and fun and can be held by kids easily. My 8-year-old son can play this during family game nights, but that is probably on the young side for who I would recommend for this game. My 5-year-old enjoyed "playing" with the robot pieces and making silly robots during game setup.
The game encourages creative thinking and reasoning. I loved that it touches on short-term memory and problem solving for the younger game players. I enjoyed the building of the robots and laughing at my own silly creations. I am a sucker for budgeting games, and Robots on the Line delivers! The buying and selling of the robots is unique and really makes the game fun.
The game play is fun once a learning curve has happened. There are lots of if/then situations with line switches, discard piles, and magnets. This game is appealing to game lovers who are looking for something fun, different, creative, and challenging. What a blast!
Wow! The presentation of this product is amazing. My kids, ages 10, 12, and 15, could not wait to get into Robots on the Line board game! The drawings of the robots on the game pieces are extremely well-done. The instructions were well written and visuals were provided to make it clear for first time setup and first time playing. All the game pieces are sturdy and will last a long, long time. Even the money came as tiles, instead of as paper.
Before playing the game the first time, I had my three children punch out all the pieces. There are a lot of game pieces (over 200), but the kids had fun removing and sorting them, and this gave me time to go through the directions quickly. The directions at first seem overwhelming, but the most difficult part is understanding how all the different tiles are used. Once this is accomplished, the rules for the game are relatively simple. I played with my children the first time, and my youngest daughter (who usually never wins as she faces two older and more competitive siblings) was the first to sell a robot! The game takes about 45 minutes to 1 hour to play. But there are several ways that one can adapt the game in order to make game play go shorter or longer. For example, the game usually ends when a player builds and sells four robots; however, you can raise or lower this requirement.
I played with my three kids the first time, and occasionally helped with game setup. Other than that, they were good to play on their own. The game suggests a playing age of 10 and older and this, in my opinion, is accurate. There is some reading involved, and you could have up to eight "buyers" interested in the robot that you are building, so you have to be able to keep multiple demands in mind. This game is great for learning how to analyze information and formulating a plan!
Buy this product at:
As an Amazon Associate we earn from qualifying purchases.