Academics' Choice Award™ Winner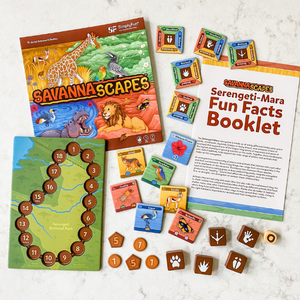 SavannaScapes
Ages: 7 and up
Price: $40.00
Type: Game
By
SimplyFun
Description
Learn about the Serengeti-Mara Ecosystem with its amazing diversity of animal life. Players take turns moving around the play area choosing species tiles and placing them next to others to provide them with their needed habitats, creating an ecosystem. Point tokens are earned each time a player meets the needs of their animals or when an event tile is played. The player with the most points when all the rounds are complete wins.

Skills Focus : Ecosystems, Strategy

Game Includes:
80 Species Tiles
8 Event Tiles
5 Start Tiles
5 Animal-Print Pawns
70 Point Tokens with tray
1 Round Tracker with Pawn
1 Tile Bag
1 Serengeti-Mara Fun Facts Booklet
1 Rules Booklet

Review Highlights:
This is such a clever game! It teaches kids about one of the largest and most protected ecosystems on Earth - the Serengeti-Mara in East Africa. It would make for a great addition to a lesson plan on Africa and/or life science. Players learn how all the animals, flowers, and their habitats (grassland, dry land, woodland, and wetland) are interconnected while earning points and using strategic thinking. It appeared a bit complicated to figure out at first, but once we started playing even my seven-year-old quickly got the hang of it. There is also a guide and video that walks you through the rules. The key is placing tiles (animals) that fit more than one habitat to earn extra points. The event tiles add another layer of complexity and make the game more interesting for older kids and adults as well. The game can be played in about 30 minutes.
The game is beautifully designed. The tiles are sturdy, colorful, detailed, and engaging. It's a fantastic game to spark curiousity about the natural world, improve decision-making skills, and teach kids about animals and ecosystems.
SavannaScapes teaches spatial reasoning, situational analysis, risk-reward analysis, planning, comparison, observation, problem solving, critical thinking, strategy, and more.
Buy this product at:
As an Amazon Associate we earn from qualifying purchases.