Academics' Choice Award™ Winner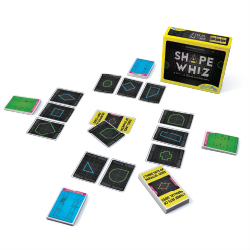 Shape Whiz
Ages: 10 and up
Price: $24.00
Type: Game
By
SimplyFun
Description
Race your opponent to find the shape that fits the geometry clue. Everyone must agree the shape is a match or flip the card to check the facts.


Review Highlights:
This was a fun way to practice geometry concepts. Many geometry skills are practiced in this game including: area, perimeter, attributes of polygons.
Geometric skills are practiced while playing this game. It reinforces the concepts of symmetry, congruence, area, perimeters and angles. This game is also a good way to encourage cooperative play. The cooperative play aspect is great. Everyone is involved in the identification, so even a younger player can participate and feel good at the end of the game. It's also a good way to reinforce the geometric concepts without the drudgery of straight memorization. The game is similar as the game concentration and a card game called "Spit" as it combines matching ability with speed. Once we understood that juxtaposition we enjoyed ourselves. The game is a great way to improve your geometric vocabulary and conceptual understanding. If this had been around when I took geometry I might have gotten better grades!
Buy this product at:
As an Amazon Associate we earn from qualifying purchases.