Academics' Choice Award™ Winner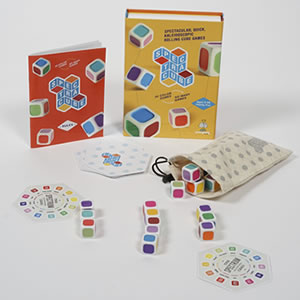 Spectracube Game
Ages: 6 and up
Price: $21.99
Type: Game, Toy
By
Funnybone Toys
Description
Specracube is not just a single game - it is SIX spectacular, quick, kaleidoscopic rolling cube games!

While having fun playing a wide variety of games, players use cubes that are made up of both the primary and secondary color palettes, so playing these games is also a great way to learn the color wheel!

30 COLOR CUBES — 6 COLORFUL GAMES!

SPECTACULAR SHUFFLE
Roll primary and secondary Spectracubes to create the highest scoring spectrum straights, pairs and 3 of a kind! Do you take the risk to roll again?

GREEDY GRAB
Be the quickest player to roll colors that match the center cubes and grab them! Roll again before other players and grab what's left!

YOU SCORE!
There are so many ways to score in this game that you may think you're way ahead of the competition! But watch out—a few quick rolls, and your competition could catch up!

BLOTCH OUT!
Try not to Blotch Out! Avoid the "Color Blotch" Spectracubes. Sound easy? Not so fast...You'll learn a lot about chance in this game!

RUMMY ROLL
Quick eyes and fast rolls get you winning—as you place your Spectracubes into Rummy straights and sets!

SPECTRA-SLAM!
Roll the Spectra-Slam cubes to win. This game gets more intense as players approach the 15 point threshold to winning!
Review Highlights:
Spectracube promoted dexterity, perception and basic math skils. For our family of 6, Spectracube provided a challenge in speed, dexterity and strategy. They also liked the ability to be able to play so many games with one pouch of dice.
This game encourages children to learn Primary and secondary colors and simple math skills. I liked that not only was it educational but it kept the students attention. I work with special needs kids and this was actually fun for them.
Buy this product at:
As an Amazon Associate we earn from qualifying purchases.