Academics' Choice Award™ Winner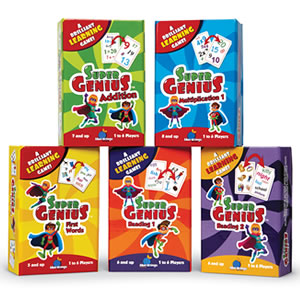 Super Genius Collection
Ages: 5 and up
Price: $12.99 each
Type: Game
By
Blue Orange Games
Description
Super Genius is a new collection of educational matching games developed so that parents and teachers can help their little learners practice important academic concepts in fun and engaging ways. Depending on the version you choose, you will be looking for a match between an image to a word, or a mathematical equation to its product or sum. But the brilliant formula used in these games means that there will always be one and only one match between any two cards. All included in a convenient box for storage and travel.

Super Genius collection comprises of 5 games - First Words, Reading 1, Reading 2, Addition, Multiplication 1.
Review Highlights:
The game allows the child/parent to work cooperatively as well as in competition. I really like the way that there are multiple matches for each card. My son has a reading disability and gets frustrated when we're working with words. The fact that he could find the word in question on different cards made him relax. And the more he relaxed the better he did. I chose the cooperative games with him because it takes him longer to sound out the words, but my older children enjoyed the speed sessions with both the math and reading. It's a great product to encourage retention and confidence.
Overall I think that these flash card/learning game can be a great asset to young learners. The cards are bright and fun to look at. And although there are lots of things to choose from, it's very easy to find the target words and numbers. I plan to put these cards through their paces as my son continues his journey to being an independent reader. The math cards are also wonderful reinforcement tools for those early math facts. Great idea and products.
Buy this product at:
As an Amazon Associate we earn from qualifying purchases.