Academics' Choice Award™ Winner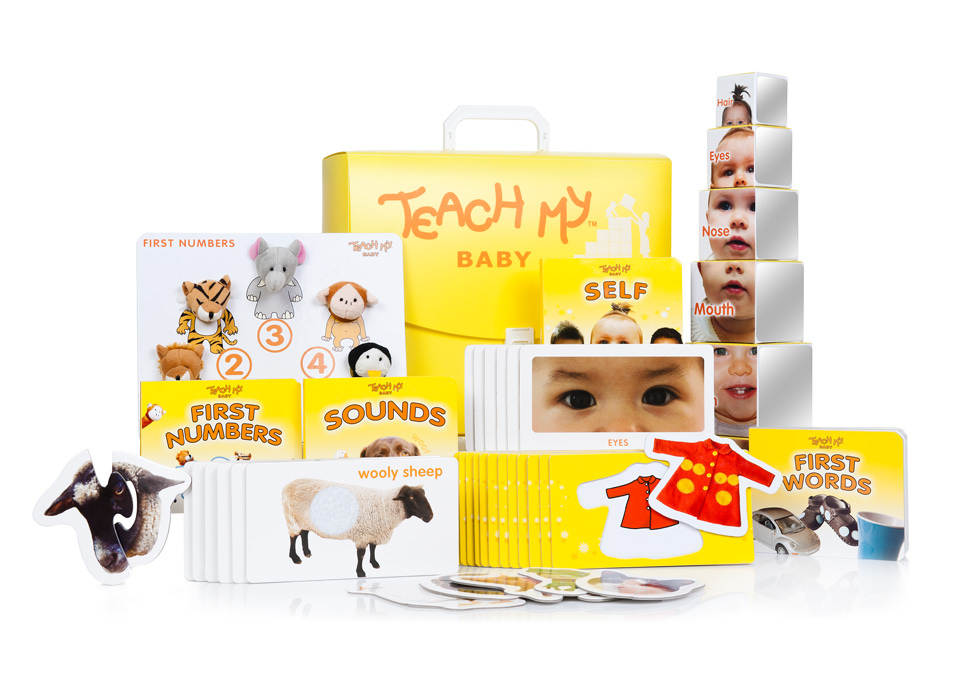 Teach My Baby Learning Kit
Ages: 6 months+
Price: $39.99
Type: Game
By
Teach My Toddler Inc.
Description
Teach My Baby is the all-in-one learning kit for babies 6 months+. Requiring no screens, the kit has everything necessary for teaching baby the basics! Teach My Baby is divided into four sections to teach babies - First Words, First Numbers, Self and Sounds & Touch. From finger puppets and books to blocks and puzzles, the kit is full of fun and creative tools to give your mini scholar a head start in learning. Teach My Baby promotes fine motor skills, hand eye coordination, parent child interaction and self-esteem.

Teach My Baby Learning Kit is available at major retailers across the USA such as Walmart, ToysRus, Amazon and more.
Review Highlights:
I have one grandchild who is 1 year old and a great grandchild who is 2. I sat down with both children at different times and they both absolutely loved the kit. The one year old was trying to copy the sounds and looking at herself in the mirrored boxes and trying to put the puzzles together. The two year old is more advanced naturally but she loved the different cards and saying the numbers and letters. Also she loved learning about self. She already knew the parts of the body, but with the kit she could look at her nose or ears and I thought that was a great addition to the product.
I like the Baby Learning Kit because you can use it with different aged children from 6 months to a few years old. The different learning cards with numbers and letters helps the child to learn visually. I also like that it has a variety of different learning tools. The case is durable and the cards are washable. I wished that when my children were young that a product like this was on the market. They have things like this but this kit includes all the basics. I really love the fact that when my grandbabies come to my house that I have a learning activity for them and its so much fun!! This Learning Kit would make a great birthday present or baby shower present.
I believe this Baby Learning Kit is a great product for a visual aid for teaching your children their letters, numbers, different shapes and feels and self awareness. The case and the cards will last for a very long time and I love how they all have their own bag to put the cards in to keep it organized!
Buy this product at:
As an Amazon Associate we earn from qualifying purchases.