Academics' Choice Award™ Winner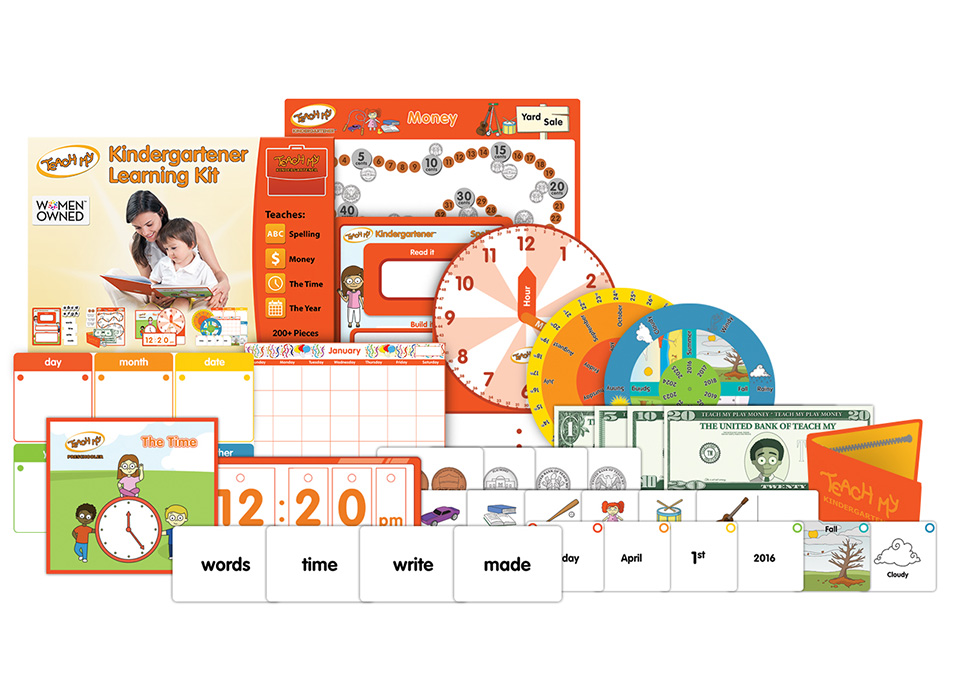 Teach My Kindergartener Learning Kit Deluxe
Ages: 4 and up
Price: $29.99
Type: Game, Toy, Book
By
Teach My Toddler Inc.
Description
Teach My Kindergartener is our newest all-in-one learning kit designed for ages 4+. The kit contains unique and coordinated tools to teach spelling, money, telling time and the year. Your kindergartener can master 100 spelling words, counting money, analog and digital time as well as days of the week, months of the year, dates, years, weather and seasons. Each set in the kit is fully coordinated to encourage matching and repetition. Teach My Kindergartener is designed to be screen-free, one-on-one learning time. The kit aims to promote school readiness and a head start for kindergarten, in just 20 minutes a day.

The Deluxe Kit Contains:
Teach My Kindergartener Spelling Learning Set
Teach My Kindergartener Money Learning Set
Teach My Kindergartener The Time Learning Set
Teach My Kindergartener The Year Learning Set

Features:
52 Double-Sided Spelling flashcards (100 Words)
52 Magnetic letter tiles
Wipe-off spelling board
Wallet & play money
Money flashcards
Wipe-off analog clock
Digital time maker
Wipe-off time book
Date maker
70 Date, weather & season cards
Wipe-off calendar book
Teaching guide
Storage case

Review Highlights:
Teach My Kindergartner has four sections: spelling, money, time, and calendars. Extension opportunities for problem solving and critical thinking abound as parents can get creative with the materials. The materials are targeted to Kindergarten age (5-6) but up to 7-8 for remedial practice. Parents or teachers of small groups, or tutors would find these materials helpful.
I loved how easy it was to have all materials in one space. I don't have time to gather, sort, and collate materials, so it's nice to have the necessary practice items there. The materials seemed to "go together" in nice ways that allowed for routine practice. My Kindergarten-aged son was engaged in all the modules and wanted to practice these with me. They were right in his zone of proximal development (not to easy, not too hard). This is a fantastic find for all parents who want one-on-one time to review academics, but want to avoid screen-time.
The Teach My Kindergartner set features four sections or skills to work on with your child. These include Spelling, money, time, and the year (or calendars). Each of these sections comes organized by gusseted plastic envelopes (10"x8"x3" approximately) that are sealed with Velcro. Each envelope is labeled at the top left corner with its category (I.e. "Spelling" envelope contains spelling work board, sight word flash cards, and magnetic letter tiles). These four envelopes were housed in an orange plastic briefcase with a latch and a carrying handle. There is an 8 page manual included that accompanies the material and introduces the user to the overall strategy for home study. I was pleasantly surprised how easy it is to keep the many loose materials organized as you move from one activity to the next. All materials (flash cards, letter tiles, illustrations, etc) seemed to "go together" which visually made my child's workspace look less crowded. Setup was very easy for each unit, and no additional materials were needed. I was pleased with the durability of the materials: very thick cardboard with glossy print on double sided coins, metal "hangers" for the time unit board, and laminated cards for use with a dry erase crayon or marker.
The target audience for Teach My Kindergartner are children ages 4-7 and their parents or tutors (advanced 4-year-olds and review for 7-year-olds). It is designed for use with one child at a time, but I could see a group of 2-3 children working on the materials with a single adult. It proudly states it is a technology-free product, and I appreciate the use of paper/pencil materials and no reliance on battery powered flashing devices, especially with this age group. The Kindergartner set is the latest edition in a series of the Teach My learning materials (i.e. Baby, Preschooler, etc). While I don't have experience with the other sets in the series, I believe they are designed to build on core skills as your child grows. My child is 6 and has just finished his Kindergarten year of school. He was very excited to unpack the materials and look over them with me. He loved the money section of the materials the best, but he used all the materials in their intended manner and actually wanted to sit with me and do the activities. I was very surprised to find that my smart little guy actually struggled with some of the concepts and needed review in wall calendars, analog clock time, and money estimation/ counting. The Teach My Kindergartner set seemed to hit a sweet spot between teaching and the review of concepts that can be difficult for kids. It is not a full curriculum for Kindergarten, but I believe the price point reflects that. I think a sentence builder unit and addition/subtraction unit to review would be welcome.
The Teach My Kindergartner kit's main benefit is for teaching, review, and extension of four very important skills addressed in the Kindergarten curriculum. Having worked in elementary schools, I know the four areas in the Teach My Kindergartner tend to need a lot of review. There is no shortage of material out there to address these four areas, I appreciated having a single box to take out at home with my son instead of hunting down 30 different materials.
The Teach My Kindergartner set is a no-brainier for any parent or grandparent of a 4-7 year old. The high quality materials that have been gathered together in a single place for one-on-one (screen-free) time is unparalleled at this cost. I want to invest in the Teach My Preschooler set for my 3-year-old now!
Buy this product at:
As an Amazon Associate we earn from qualifying purchases.