Academics' Choice Award™ Winner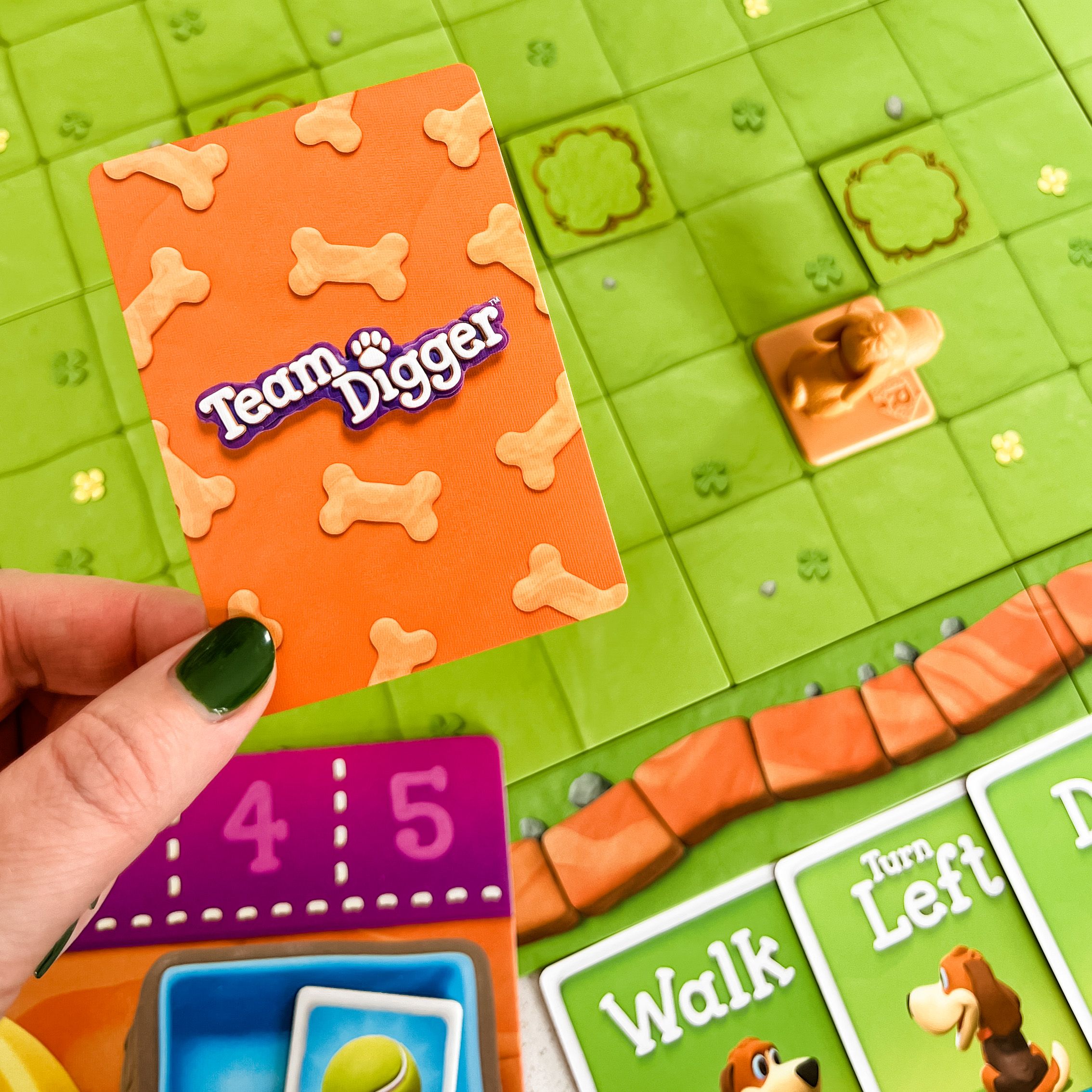 Team Digger
Ages: 6 and up
Price: $36.00
Type: Game
By
SimplyFun
Description
Play cooperatively in Team Digger to learn sequencing, spatial reasoning, and early coding skills - no screen required! Each player creates a five-card sequence to move their dog from one dig site to another. Players win as a team when they find all four bones buried in the park before they dig up five unwanted objects, like an old shoe. Team Digger can be played by 2-4 players ages 6+ in 30 minutes or less.



Review Highlights:
Team Digger provides an excellent introduction to coding. Direction cards must be used to move a player's dog token to an object card to find the bones. Even better, all players work together, talking about what decisions each player should make. Players take turns being "team leader" so each one has the opportunity to develop leadership skills, diplomacy, and negotiation. Players also develop math and strategy skills: each turn requires the players choose five cards to move their token whether or not they need that many cards to reach their desired destination. This also requires careful planning, sequencing, and spatial reasoning. The game is designed to take only 30 minutes so kids can stay engaged and motivated to achieve their goals.
This is a high quality product. The pieces are sturdy and well made. My favorite part of this is the necessity for players to cooperate and work together. If they want to win the game, they have to make decisions together. Players who are new to the skills required will benefit from the help and support of players who have better developed skills. Because of the way the board is set up, the game feels new and different every time we play. The game is just the right length of time, 30 minutes or so. The players remain engaged through the whole experience but the game is done by the time frustrations or weariness set in.
This is a great way for kids to learn about coding without needing to spend more time in front of a screen. When they practice and develop their skills with this board game, they will be ready to learn more advanced coding in a computer science class. The team-building aspect is so beneficial as well!
Team Digger is am amazing game that combines early coding (programming) skills into a fun and cooperative game. Kids work together, strategizing to efficiently code their dogs to "dig" bones and treasures, while trying to avoid finding undesirable items. Kids practice sequencing and spatial reasoning skills in a fun and low-stress game.
This is truly "game-based learning" where kids are introduced to early coding skills in an entirely screen-free environment. The game is easy to learn and the difficulty can be increased to continue challenging kids. The entire game is high quality and built to last.
Team Digger is a cooperative game that aims to teach sequencing, problem solving and spatial reasoning. Players work together to dig up all four bones before digging up the five other items. We really enjoyed playing the game during family game night. There were no fights or tears (which happens sometimes) as everyone was trying to help the group - which was a new idea for my 7 year old. It was easy to set up and understand all rules for a quick start. I highly recommend this one!
Players have fun while thinking critically about the various combinations of their action cards in order to move their dog where they want it to go. It is a game that can be played multiple times while still being fun since the board can be configured in so many different ways. Itís also a great game to reinforce effective collaboration since players work in teams.
This game is fun and entertaining for children and their adults!
Players learn to work together as they combine actions (program) to get their dog to various spots on the board and uncover bones. Players need to consider how to order their action cards to move their dog where they want it to go.
Buy this product at:
As an Amazon Associate we earn from qualifying purchases.