Academics' Choice Award™ Winner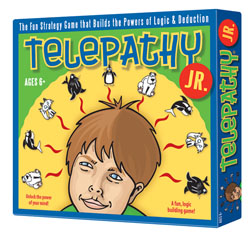 Telepathy Junior
Ages: 6 and up
Price: $20.00
Type: Game, Puzzle
By
LMD Enterprises
Description
Telepathy Junior is a logic and deduction game for kids. It teaches kids how to use logic and deduction at an early age. Game takes between 5 - 10 minutes and includes 2 game boards, 2 game cards, dry erase pens and an eraser.
Review Highlights:
Telepathy Jr. is a great way for a child to practice deduction skills. The bright pleasing colors and silliness of the animal drawings attracts a child's attention. Writing on the game boards and game cards engages a child and helps them organize their thinking in order to deduce answers correctly.
The strategy of the game helps promote critical thinking with decision making and prioritizing the four aspects of questioning involved in this game. Visual perception is also sharpened by the eyes evaluating colors and animals and finding those patterns on the game board. As a mother of a 6 year old and working as a registered nurse, I am very familiar with the learning of and the daily use of these important skills. My child is learning a great deal while playing Telepathy Jr. and wants to play it again and again.
Find stores to buy this product at:
As an Amazon Associate we earn from qualifying purchases.