Academics' Choice Award™ Winner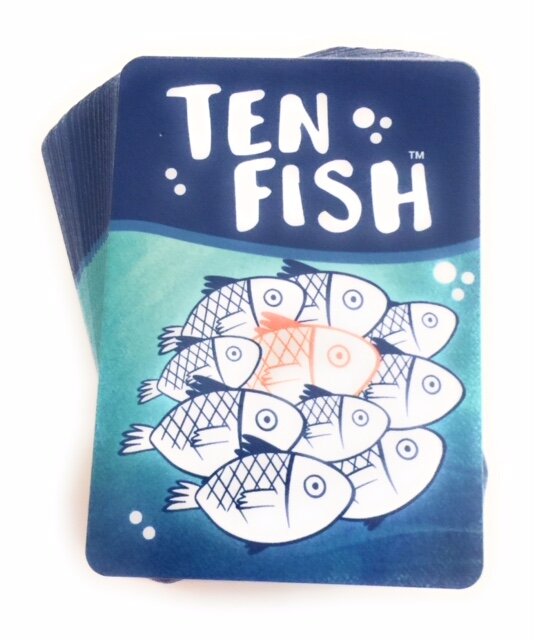 Ten Fish
Ages: 4 - 10
Price: $15.95
Type: Game
By
Games by Absolute Zero
Description
Created by an elementary math specialist, Ten Fish card game gives players the opportunity to practice and master the foundational skill of making tens while having fun and reducing math anxiety. Each card has printed on it a ten frame with the number of fish the numeral represents. Ten frames help young learners with number recognition and can be used to count how many more fish are needed to make ten.





Review Highlights:
I LOVE this card game! As a public school educator, I want to recommend this game to all the teachers and interventionists. Ten Fish allows for quick game play; my kids and I were playing within seconds of opening the package. The rules are easy to explain and the game play was fast-paced. The packaging is nice, with a solid plastic case that will withstand multiple crashes, yet easy enough for small fingers to open and put back. The case also allows for labeling and stacking - a much appreciated detail for educators. I began to see reasoning and logic displayed by my 7-year-old when she would say, "you asked me for a 7, that means you have a 3!". Ten Fish is such a fun way to practice and reinforce key numeracy skills. This is an essential game to have on any educator's shelf.
Ten Fish is a great math game for stations or if a student completes an assignment early. It is so easy to get started and most kids first grade and up will be able to play with out much introduction. Great to have around the classroom!
Ten Fish is a great addition to any educator's math toolbox. It has simple play, and requires children to review math facts in a fast paced, fun way that doesn't feel like drill.
This game reviews math skills utilizing a tried and true game format. Students learn and practice basic numeracy skills, number sense, counting within 10, addition within 10, number recognition, subtraction within 10, cooperation, communication (asking questions), following directions, mathematical reasoning, and strategy. It was simple to understand and start playing. Game play was easy, and there is great flexibility of game rules to keep it fresh.
Buy this product at:
As an Amazon Associate we earn from qualifying purchases.