Academics' Choice Award™ Winner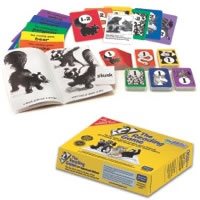 The Reading Game, 2nd Edition
Ages: 4 and up
Price: $34.95
Type: Game, Flashcards, Storybook
By
Allsaid & Dunn, LLC
Description
These fast paced memory card word games with accompanying picture flashcards and content-rich storybooks can help ANY child learn to read without frustration. The staged learning format first teaches individual words, followed by short phrases and sentences, and then graduates to a full-length storybook. This format ensures success - even for struggling readers.
Review Highlights:
The Reading Game is very simple, yet quite effective in teaching the early stages of reading. This is a whole word approach that will work well with children that lean on the visual-verbal and logical linguistic intelligences. The system is straight forward and easy to follow. Children will learn many of the dolch site words expected to be known in first and second grade. It is perfect for any one-on-one lesson taught by either a tutor, parent or teacher.
I liked the simplicity of the set up and sequence of this system. The Reading Game would be a wonderful addition to any classroom.
My boy loved matching the words. We thought this was a great way to teach Dolch words. We like trying to read the full sentences after he learned the first 2 sets of words. I'd recommend The Reading Game to any homeschooler who is looking for a simple way to teach sight words.
My child learned the first 10 sight words with ease! I liked how simple it was to set up. I also liked how it built upon my child's learning to the point of reading sentences! I'd recommend The Reading Game to any parent or teacher working with early readers.
Buy this product at:
As an Amazon Associate we earn from qualifying purchases.