Academics' Choice Award™ Winner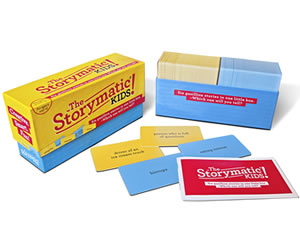 The Storymatic Kids!
Ages: 5 and up
Price: $29.95
Type: Game
By
Storymatic Studios
Description
Six gazillion stories in one little box. Which one will you tell?

No wires. No screens. No batteries. Just pick a few of the cards and watch a story take shape before your eyes. How you tell it is up to you. Write it, draw it, act it, sing it!

Play by yourself or in groups. Perfect for early writers, parents who need some fresh bedtime stories, teachers who want to nurture creativity, and grandparents who want to play with the kids. A great way to get people talking, listening, and laughing.

Ideal for road trips, birthday parties, game nights, improv, classrooms, camping trips, sunny days, and rainy nights.

Made in USA.
Review Highlights:
I love that it gives story start ideas, great for families and homeschoolers!!
The game encourages creative thinking. You draw 3 cards, 2 combined give you a character, the other is an event. You then come up with a story using those guidelines. My son (9) has a hard time coming up with stories, so this helped spark his imagination and he enjoyed it.
I love that the game makes kids think and requires creativity. I also liked that, although there are a finite number of cards in the game, there are so many combinations that the game will be new every time. I appreciated that it was so easy to jump in and begin playing. The instructions were concise and easy to follow. I also liked that there were alternative suggestions to play the game for even more fun.
We really enjoyed Storymatic Kids. Within a few moments my kids were hooked, and it didn't take long for them to want to play. The game is very creative and original.
Buy this product at:
As an Amazon Associate we earn from qualifying purchases.