Academics' Choice Award™ Winner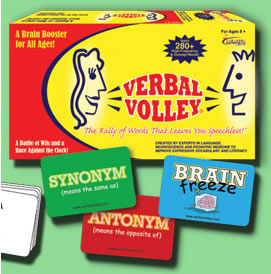 Verbal Volley
Ages: 8 and up
Price: $29.95
Type: Game
By
Mindfull Games
Description
Get ready for a battle of wits and a race against the clock. Once the timer starts, its player against player or team versus team as you frantically try to come up with a synonym or antonym. Better act fastÖ before your opponent beats you to the verbal punch! First correct answer takes the card, and itís on to the next word. Collect the most cards before the timer expires, and the round is yours! Next up is the Brain Freeze round. Itís like a game of hot potato played with words. Blurt out a word that allows you to pass that dreaded Brain Freeze card! The suspense builds at every turn as your choices run out. Get stuck with Brain Freeze, and your score takes a hit!
Review Highlights:
I use this in my 4th grade classroom for free time. Itís always the game to be grabbed off the shelf. Little do they know they are developing their vocabulary and word usage skills for writing! I highly recommend it to other teachers!
I'm a homeschooler and I use Verbal Volley to sharpen my childrenís vocabulary and quick-thinking skills. After playing this game for a couple months, I have found it is much easier for my children to come up with, and articulate specific words when doing their writing assignments.
My family likes to play scrabble so we tried verbal volley. It is a much higher energy game and really keeps you on your toes.
Buy this product at:
As an Amazon Associate we earn from qualifying purchases.