Academics' Choice Award™ Winner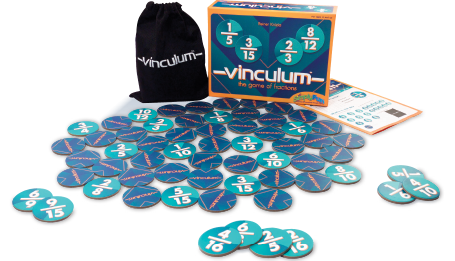 Vinculum
Ages: 8 and up
Price: $26.00
Type: Game
By
SimplyFun
Description
Vinculum the fast paced game of fractions. Race to get the most Fraction Tiles and win! A fraction consists of a Numerator (on the top) and a Denominator (on the bottom). The line that separates the two is called a Vinculum. Learning how to reduce and expand fractions will help players recognize equivalent fractions.

Features & Benefits
Recognizing Equivalent Fractions
Reducing and Expanding Fractions
Observational Reflexes
Review Highlights:
This is a new great math game for curious minds. It's creative and unique and makes an often difficult subject to master much more palpable for young minds. Up to 6 players can be engaged in a play and it is appropriate for ages 8+. The players need to learn the rules of reducing and expanding fractions, and in the game look for the equivalent ones. This is a great way to learn and practice recognizing this important mathematical concept, all while having fun with friends. I recommend it.
It gave my adult brain a workout too.
Buy this product at:
As an Amazon Associate we earn from qualifying purchases.