Academics' Choice Award™ Winner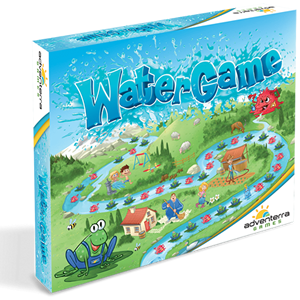 WaterGame
Ages: 7 and up
Price: $24.95
Type: Game, Card Game
By
Adventerra Games
Description
Learn the value of clean water in this cooperative game. Players roll dice, float down the river, and draw "Savings" or "Wasting" cards. Unlucky players must rely on the community water jug, which requires donations from players who have saved more water. If the jug is empty when someone needs it, everyone loses — so let the negotiations begin! Ideal for 3 to 4 players. Play can be completed in about 30 minutes




Review Highlights:
This game teaches and reinforces how we can save more water and the importance of water conservation. Practiced skills include communication, negotiation, and basic math (addition). The concept of scarity is also covered.
My 9 year old and I sat down to play Water Game and had a good time. The directions were tough to follow at first, but we figured it out after rereading a few times. The game was simple in its basic roll the die, move and take a card, but the content of the game was great. My boy knew answers on the "?" cards and felt more connected to water conservation after getting the answers correct. We talked about the importance of saving water and the little things we can do to make a difference. We also talked about the importance of extra water needed due to all of the California fires. Great game! Nice work!
I would have used this game for my unit on water a few years back. I think my third graders would have loved it. Although I don't teach any more, I know this game would be loved by students and you could use it as a supplemental source or even a rainy day recess. What a great way to teach about the importance of saving water!
We liked how original the theme of the game is, as well as the picture quality on the board.
Buy this product at:
As an Amazon Associate we earn from qualifying purchases.