Academics' Choice Award™ Winner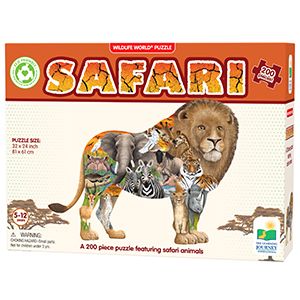 Wildlife World - Safari Puzzle
Ages: 5 - 12
Price: $14.99
Type: Game
By
The Learning Journey International LLC
Description
This 200-piece Safari puzzle is shaped as a lion and introduces the environment on the savannah! The puzzle will help develop problem solving skills, spike interest, and expand knowledge of different environments! The puzzle measures approximately 3' x 2'!


Review Highlights:
This is a beautifully designed, lion shaped puzzle! This 200 piece puzzle is great for developing problem solving, visual spatial relationships, and fine motor skills. I received the puzzle and my 9 year old son was immediately excited about it. As we worked on it we talked about wildlife, Africa, and lions in particular. This is a great puzzle to do with your children or even have in your classroom as an extra curricular activity.
The Safari puzzle was beautifully made on thick paperboard, with clean cuts and captivating graphics. The pictures within the puzzle were fantastic, and the unusual shape of the puzzle was a fun challenge (it's shaped like a lion with animals within its body). It's a good size, about 3 feet wide, and was a lot of fun to do as a family/group.
The puzzle is visually very attractive. It contains a good variety of animals and birds (17 in all), is quite complex both in the arrangement of animals and in the shape of the puzzle. The puzzle pieces are very sturdy.
This puzzle develops children's problem solving skills, visual perceptual skills, fine motor skills, requires practicing patience, and builds on logic and sequencing skills.
Buy this product at:
As an Amazon Associate we earn from qualifying purchases.