Academics' Choice Award™ Winner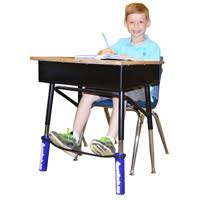 Bouncy Bands
Ages: 5 - 18
Price: $14.95
Type: Gear & Equipment
By
Bouncy Bands LLC
Description
Bouncy Bands attach to student desks (and chairs) for children to bounce their feet and stretch their legs while they work. They help students stay focused, release their extra energy and anxiety, as well as prevent children from leaning back (and falling) in their chairs.



Review Highlights:
I like the idea of this product. Some children have more body energy than others. This product really helps kids sit in their seats for longer periods of time because they are still able to move their bodies while reading or writing. Although this band does not develop the mind directly, as a homeschool parent, I highly recommend it.
My third grade boys loved Bouncy Bands! I think the band helped my boys sit for a longer period of time. They were distracted by the bands at first, but then got used to them and went to work.
Buy this product at:
As an Amazon Associate we earn from qualifying purchases.