Academics' Choice Award™ Winner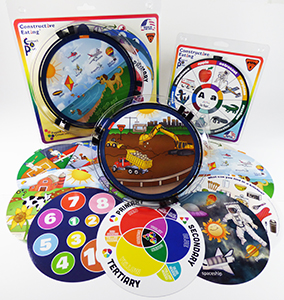 Construct-A-Plate with Alphabet Image Card Pack
Ages: 1 - 8
Price: $19.95 (Construct-A-Plate) and $13.95 (Alphabet Image Card Pack)
Type: Gear & Equipment, Toy
By
Constructive Eating
Description
Construct-A-Plate: The Construct-A-Plate has an easy to use design that allows you to change or customize the image seen through the plate during meal time. Snap the base into the clear top plate and you are ready to eat! The Flat version presents the best surface for viewing the images through the top piece. The Segmented version presents an eating surface that is divided into three equal parts to keep food separated.

Both sides of the base are designed to hold images. One side holds 3" x 5" and 4" x 6" photos. The other side holds 7" circular images, such as the Image cards that Constructive Eating produces.

Included with the Construct-A-Plate are six two-sided Image Cards. The Image Cards contain a wide variety of topics, such as Sports, Space, Letters, Seasons and Colors. Many of the cards are S.T.E.A.M. inspired.

One of the most exciting aspects of the Construct-A-Plate is the opportunity to make your own image cards using our App available in the iTunes store and on our website!

FDA approved. The Plate is microwave and dishwasher safe, just remember to remove your Image Cards before placing your Construct-A-Plate in the dishwasher or microwave!

Alphabet Image Card Pack: Grow your Construct-A-Plate collection with the Alphabet Card Pack from Constructive Eating. Twenty-six colorful cards from A-Z illustrate just how fun learning can be. Each card features a letter of the alphabet surrounded by iconic images that begin with that letter. The Alphabet Card Pack is a great addition to the Original Card Pack sold with each Construct-A-Plate.

Review Highlights:
The alphabet card pack presents all letters of the alphabet on 13 circular cards. Separate purchase of the plate is required to use the alphabet cards. The cards in the plate package are a variety of "STEAM" focused cards (not just STEM, but, STEAM includes arts, which is nice). The cards encouraged categorization, critical thinking, and promote discussion at the dinner table. The ideal age is 3-5. My 6 year old uses the plate but the skills are edging on too young for him.
What an innovative product! I like the divided portions and the colorful images. The plate cards are easy to change out to keep my kids interested. The plate itself is durable and has a skid resistent rubber bottom to keep it in place. As a speech pathologist that specializes in pediatric disorders and feeding / swallowing, I would recommend this product to my patients' families.
Overall a nice product that would make a great gift for moms who don't want more plastic toys in the playroom.
Buy this product at:
As an Amazon Associate we earn from qualifying purchases.