Academics' Choice Award™ Winner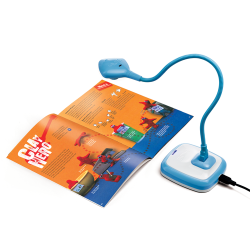 HUE HD Pro camera
Ages: 5 and up
Price: $79.95
Type: Gear & Equipment
By
HUE
Description
The HUE HD Pro classroom camera and visualizer is the latest addition to the HUE range of USB cameras. This camera can view a full A4 or US letter sheet and project this to the whiteboard via your PC and projector.

The HUE HD Pro also comes with specially designed software, HUE Intuition, to allow you to master the full functionality of the camera with ease. We are delighted to offer HUE Intuition to teachers for trial and we welcome all feedback.

- The length of the neck makes this camera perfect for viewing a full A4 or US letter page.
- The built-in LED lights will help illuminate your subject.
- Available for Windows and Mac OS X (macOS).
- It's full of character just like its older brother the HUE HD camera - but with a new design for the head and base.

The camera comes with its very own brand new HUE Intuition software, which allows you to:

- Record video and sound and save movies locally, email or upload to YouTube
- Annotate images and save as JPG/BMP/PNG/GIF
- Take snapshots
- Take multiple images over time

Use the HUE HD Pro for:

- Demonstrating a science project
- Taking snapshots of students work
- Recording a technique or experiment and replay it to the class
- Stop motion animation
- Time-lapse photography
- Chatting with remote schools in other countries with software such as Skype™


Review Highlights:
I've always been reluctant to use a projected doc camera in my classroom but after trying this one, I'm sold. It is so simple (even for the non-tech teachers). It is plug and play. I went to the website, put in my email, name, and activation code to run the camera software, plugged in the camera, and that was it. The camera itself is heavy, solid, and tough - perfect for the elementary classroom. The gooseneck has a focus and light switch on it which is very helpful. This is a fantastic teaching tool with endless possibilities. Next year I will be projecting worksheets, filming student skits, taking pictures of class projects, and recording student work, all on the HUE. Looking forward to it!
The HUE HD Pro camera a great tool for quickly uploading my old printed lessons to Google Classroom!
It allows a bigger audience to see something better which lets them learn more! I like that it was easy to use and that I can use it in a classroom!
The time lapse feature is fantastic. We used it for our seed germination science project. It allowed us to capture the timing of plant growth spurts and correlate it to events that helped trigger the growth (e.g. temperature increase, more light, etc.).
Buy this product at:
As an Amazon Associate we earn from qualifying purchases.