Academics' Choice Award™ Winner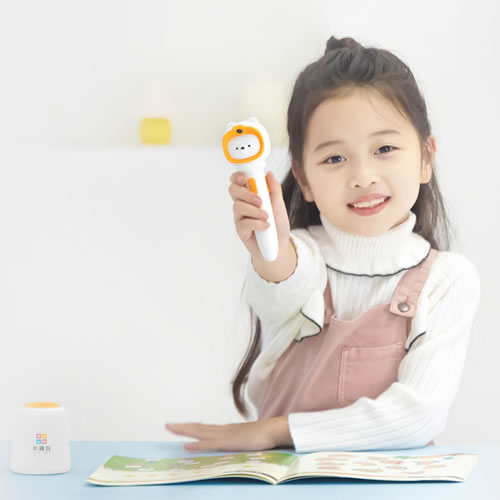 Jiqidao AI Reading Pen
Ages: 3 and up
Price: $169.00
Type: Gear & Equipment, Electronics, Book
By
Nanjing Jiqidao Intelligent Technology Co., Ltd
Description
Jiqidao AI Reading Pen helps children with early education enlightenment and English language learning. It can read about 95% of the popular picture books in Chinese market. More than 70000 books can be read by the pen. Users can even use their fingers to point at any place in the book and the AI Reading Pen will read the relevant sentences. It has 32G memory and wireless charging. It has a built-in recording function and AI follow-up evaluation function to help children improve their English pronunciation.


Review Highlights:
The Jiqidao AI Reading Pen is an innovative and interactive reading device to help kids (and adults) who know Chinese learn English. It's a smart device with a cute bear-themed design that has a built-in speaker and charging port. Kids can easily charge the device by putting it in the port which is plugged in via a USB cord. They don't have to mess with a cord, just pop it on the port base and it charges so it can be used wirelessly. The device can read stories aloud by either pointing its tip at the words on the page or by using a finger-pointing technique with the pen resting in its base. The latter feature is quite impressive and useful, especialy for young children with limited dexterity that can't yet hold a pen. The pen can read a majority of the popular picture books available in the Chinese market. The pen comes with 20 picture books with Chinese and English translations on each page, both of which the pen will read aloud with the proper pronunciation. The pen can also play sound effects related to the images on the pages. The books include activities such as finding differences between images, which help engage kids in the stories. There is a free companion app as well that will display learning reports on how your kids have done and what they have read. There is also a collection of soothing musical songs to play at bedtime or to help kids wind down.
I love how it engages kids to learn in a fun way without them really realizing they are learning!
Buy this product at:
As an Amazon Associate we earn from qualifying purchases.