Academics' Choice Award™ Winner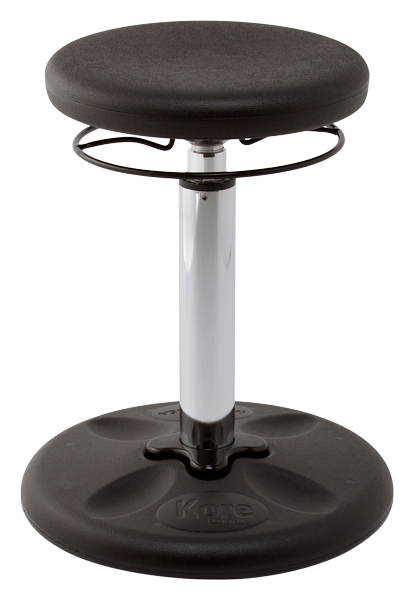 Kore Kids Adjustable Wobble Chair 15.5-21.5"
Ages: 8 - 16
Price: $122.99
Type: Gear & Equipment
By
Kore Products
Description
The patented Kore™ Wobble Chair is not just a piece of furniture, it's a life-changer! Kids can move freely and stop concentrating on sitting still. Great for children of all shapes and sizes, the height of the new Kore™ Kids Adjustable Wobble Chair can be modified to grow with your growing child! High quality, durable molded plastic is made in the USA and is now Antimicrobial!
Review Highlights:
I like that these stools are very high quality. My girls (ages 13, 16 & 17) and myself have been using our stool and we all love it. This will be a great addition to our homeschool because my kids and myself get tired of sitting for very long and this allows them to have a little wiggle time. We do have an exercise ball that my kids will sit on, but it takes up so much room in our school room. This stool takes up very little room and will easily fit at our school table. I also like that it is light weight and can be carried from room to room.
We loved the Kore Kids Adjustable Wobble Chair and it quickly became the favorite seat for doing school. I loved that it can be adjusted to fit my 6 year old, but also fits adults and teens. We also loved how it moved just enough to get wiggles out and improve focus, but not so much to be distracting. And it was comfortable! Other tools I've tried with my ADHD son tend to irritate him--he also has Sensory Integration Disorder, but this seat has been perfect. It seems very sturdy, it is not "tippy," and all of the kids LOVE it! It was also very easy to assemble!
Love this item and I will be purchasing at least one more!
The Wobble Chair (stool) helps improve focus, attention spans, and balance. And it's comfortable!
Buy this product at:
As an Amazon Associate we earn from qualifying purchases.