Academics' Choice Award™ Winner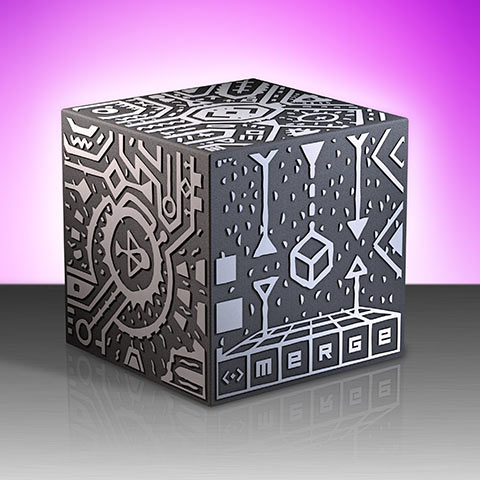 Merge Cube
Ages: 10 and up
Price: $14.99
Type: Gear & Equipment, Toy, Game, App
By
Merge VR
Description
Meet the Merge Cube, the worlds first holographic object you can hold in the palm of your hand. Our award-winning holographic cube gives you the power to control holograms! You can play, learn, and explore in magical new ways. Just download apps using your tablet or smartphone, view the cube through your device's camera, and watch the Merge Cube come to life as it transforms into anything you can imagine! Super power your experience by selecting the optional Virtual Reality mode, then slide your smartphone into virtual reality goggles to completely immerse yourself in holographic worlds. Its virtual reality, augmented reality, and mixed reality in one -- Its Merge Reality!

Holographic Play The Merge Cube gives you the power to control holograms! Play, explore, and learn in magical new ways. Find new kinds of games, puzzles, and experiences at Merge Cube online. AR, VR & Mixed Reality The cube merges the physical and digital reality - Its virtual reality, augmented reality and mixed reality all in one. Its Merge Reality! Welcome to the future. Works with iOS & Android Use your iOS or Android device to power the Merge Cube, and download apps to magically transform the Merge Cube into anything you can imagine! Works with tablets and smartphones. Super Powered with VR Mode Super power your experience with VR Goggles! We recommend using our award-winning Merge VR Goggles :D. Other AR-enabled VR Goggles will work, too. Free apps and games Get free Merge Cube Apps for every Merge Cube you purchase.

The Merge Cube merges the physical and digital worlds using computer vision technology and the powerful camera and sensors in your mobile device. Visit Merge Cube online to discover fun apps and games that holographically transform the cube before your eyes! Launch the app then point your iOS or Android tablet or smartphone at the Merge Cube. Optional VR Mode - To super-power your experience, select virtual reality mode in any cube app, slide your smartphone into virtual reality goggles, and immerse yourself in holographic worlds!

Award Winning Awarded by Tech Radar for Most Unique Product at CES 2017 Fresh Award winner at DISTREE EMEA Included in WIREDs round up of the best phones and gadgets at Mobile World Congress



Review Highlights:
The Merge VR Merge Cube is in essence, a tool, not a toy. It functions as a gateway, of sorts— a portal for extending gaming play, taking a phone or tablet and bringing it a new avenue for further engagement. It's a relatively simple square, but comes to life when your child uses it to interact with apps. It's instant out-of-the-box appeal lured kids of all ages, from 17 to 2. Easily operated by any child with a basic knowledge of today's tech, the Merge Cube is a novel and engaging way to allow your child "screen time."
The Cube itself is a sturdy, foam-like block that is essentially useless... until coupled with a smart device which has been loaded with one of the apps to which it is linked. Then, the block comes alive on your screen, becoming a separate little world. I loved the ease with which the apps were found, as well as the low-level of skill required to interact with the device. While the Cube could only be in use by one student at a time, others were free to watch, and felt like they were active in the experience.
The merge cube allows its user to hold a projected object, as seen through the screen of your phone, in order to play games, engage with educational objects, or explore the world. Although my youngest two children (ages 8 and 10) were eager to play with the merge cube, it was my oldest daughter (age 14) who really wanted to take the time to explore its many uses. She downloaded several free apps as well as a couple of the paid apps as well. She particularly enjoyed the games associated with Th!ngs for Merge Cube (by Merge Apps), AnatomyAR+ for merge Cube (by Hybrid Medical Animation), Mr. Body for Merge Cube (by Merge Apps), Dig! (by Merge Apps) and Voxel Fly VR (by Cenek Strichel), among a few others.
There are many things to like about the merge cube. For starters, it is very well packaged. The product was secure, yet easy to get to. The product's activation code needed to access the apps was accessible and fit back nicely into the box for future reference. The activation code could also be used across multiple devices - allowing both my daughter (who has an Android phone) and myself (an Apple owner) to use it. The merge cube itself is easy to hold, and made with material that is sturdy. I was not worried about the younger kids handling it - the merge cube could easily be dropped a hundred times without hurting its functionability.
What I like best about the merge cube is that it puts the latest in consumer virtual reality into the hands of the next generation. My oldest daughter stated, "I could spend hours with this!" while my youngest sat on the floor with a virtual heart pumping in her hand. The novelty of the merge cube is such that my children were excited to share it with friends and family. I enjoyed using the apps that allowed me to explore anatomy (e.g. brain, lungs, etc), and I could easily see a product of this nature being used in the classroom to get kids excited about science. As a homeschooling mom of three, I particularly enjoyed the Anatomy AR+ for Merge Cube (by Hybrid Medical Animation), and noted that there were also apps that allowed children to explore the solar system - this will be my next app purchase for the merge cube!
Buy this product at:
As an Amazon Associate we earn from qualifying purchases.