Academics' Choice Award™ Winner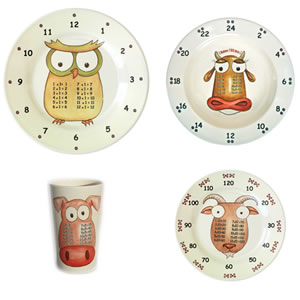 The Multiples Early Years Set
Ages: 2 - 6
Price: $34.99
Type: Gear & Equipment
By
Realtimes Products LLC
Description
The Multiples Early Years set comes complete with a 9" plate, a 6.5" plate, a 7.5" bowl and a 3.5" tumbler. Aligned to the common core to encourage children ages 2-6 with numbers, the Early Years set includes our 1,2,5, and 10 characters with their associated numbers and several mathematical methodologies on each item, including skip counting, dice counting, multiplication, and subitizing. Designed in the UK and made from 100% melamine these plates are BPA free and dishwasher safe. It's Education like it used to be. Before they invented schools. Social. Around the dining table.
Review Highlights:
My son loves his cow bowl and pig cup! After the initial fun of having pictures on his bowls and cups wore off, he began asking a bit more about number relations and math in general. This product isn't necessarily academic but does offer up conversation about math related topics which I think is great.
The quality and creative tableware sparked a lot of family dicussions about math in general, including counting by 2's, 5's and 10's, and how math is used in cooking and everyday life. It's a subtle yet clever product.
Itís perfect for a family with two or more children at different levels. The pip counting aspect is what we liked most as subitizing (instantly seeing how many) is a fundamental skill in the development of studentsí understanding of numbers. This is what made the product unique and intrigued students (after the cute animals captured their attention).
Buy this product at:
As an Amazon Associate we earn from qualifying purchases.