Academics' Choice Award™ Winner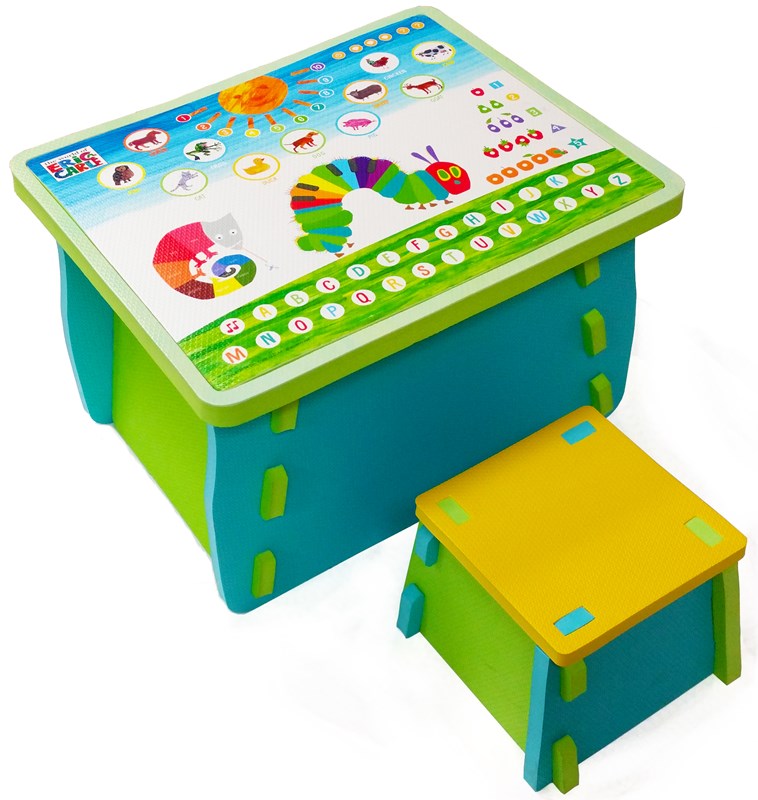 The Very Hungry Caterpillar™: Learning Table & Chair with Voice Pen™
Ages: 3 and up
Price: $99.99
Type: Gear & Equipment, Toy, Electronics
By
Creative Baby Inc.
Description
The Table and Chair set comes with two tabletops (Caterpillar and the Zoo), both featuring The Very Hungry Caterpillar and familiar friends from Eric Carle's popular books. On one table mat, kids point to the caterpillar's middle, which resembles a piano keyboard. Point with the Voice Pen and listen to 8 musical notes. Point to caterpillar's apple, pears, plums and strawberries and get a colorful math lesson counting from 1 to 5. With a Voice Pen, one can learn new words, pronunciations, numbers, colors, phonics, multiple languages, storytelling and hand-eye coordination! Even better, a parent or teacher can custom record his or her own voice/short stories over each object/animal on the table tops by clicking on the heart button on the Voice Pen & using the Custom Recording card. The Voice Pen is also a 4GB MP3 Player with Susie Tollman music downloaded already.
Review Highlights:
This is a must have educational addition to a playroom or preschool. It's very engaging and portrays a wide variety of skills and knowledge to learn and use.
Fine motor skills and tactile learning were used when holding and maneuvering the pen from location to location. There were so many different skills used depending on whether you are using the system for intentional or passive learning which is great. We were able to work on colors, letters, animals, numbers, following directions, and many more things.
We used the voice pen with the included cards and table. We tried free play and game methods. It's great for teaching little ones their ABC skills, colors, shapes and more. Overall I think this is a great product for young children learning basic skills. It's fun and interactive for the kids to play with. It was also easy to put together.
As an educator and a mom I LOVED this product! It's very engaging and can be used passively or intentionally in your child's learning. The pen is easy to hold for small hands and is loud enough for children to easily hear. I found my children continually going back to the table wanting to sit on the bench and use the pen. There are so many options on the table mat it keeps the kids busy and mats are simple for the kids to change out on their own. I also like that the foam mat/table is textured for sensory and tactile learners.
Buy this product at:
As an Amazon Associate we earn from qualifying purchases.