Academics' Choice Award™ Winner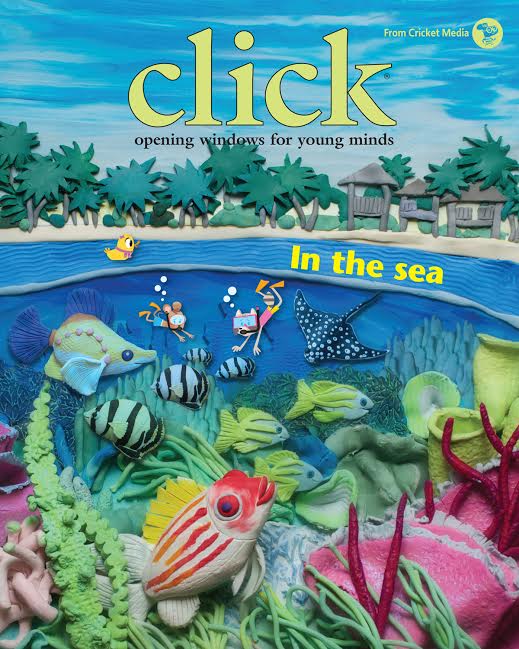 CLICK Magazine
Ages: 3 - 6
Price: 9 Issues/year - $33.95
Type: Magazine
By
Cricket Media
Description
Packed with fascinating information on topics that preschoolers love, CLICK is the science magazine for kids that explains how the world works, one fascinating topic at a time. If your children are curious about the world — from dinosaurs to space, nature to technology — CLICK is here to answer their questions using language and photographs that engage young minds and encourages a lifelong love of learning.





Review Highlights:
As a speech-language pathologist, I am always looking for products to engage my students in comprehension and critical thinking activities. I would gladly add Click to my resources to extend a students thinking about a topic. The material presented is challenging, but Click does not oversimplify an idea just because a younger student is reading, instead it challenges kids by using new vocabulary, new concepts, and different viewpoints to stimulate creative thinking.
Click is a fantastic nonfiction resource for home, homeschool, or as part of the periodical library in a school or classroom. Skills such as inquiry, comprehension, extended thinking, and real-world application of knowledge are just a few of the highlights.
Click presents difficult-to-grasp concepts in fun, engaging ways that do not over-simplify an idea for children. There is a mixture of photos and illustrations to gain kids' attention. Most importantly, however, the captions with these pictures deliver more than just trivia, the text helps further explain the theme.
My own children (ages 4 and 6) loved Click. It was perfect for my 6-year-old's attention span as he could read the text at his own pace and jump from the comic to the activity section. My 4-year-old loved the pictures and could sit long enough for a section or story each time. I think very precocious 3-year-olds would enjoy the magazine, but the information is very dense for this age. I could see children up to ages 7 and 8 engaging with Click and really absorbing the content.
Click employs a blend of encyclopedia-type knowledge and nonfiction in narrative format as well as through cartoons/ character dialogue. There is so much information that is covered in a single issue, it would be beneficial to spend several days (if not weeks) on the topics presented. This makes Click the ideal publication for homeschool families or any child who enjoys unit-based study. These issues are made to be kept in a family library as the ideal of what a periodical can (and should!) be.
When comparing Click to other competing nature/science magazines (i.e. ZooBooks, National Geographic for Kids, Ranger Rick Jr, etc), Click seems to appeal to children who appreciate expertise in a topic. The format has fewer visual distractions and a pace that would allow for parent and child to truly share in moments of wonder and learning.
CLICK caters to curious minds... my kids devour the magazine. I use the activities and articles to enhance and often spark new ideas for lesson plans.
I'm a former classroom educator turned homeschooling mom, these magazines are a welcome addition to my growing, and highly-selective library. It's a great way to help kids make sense of the world and develop imagination.
Click is often in my lap at storytime. Granted, I do use character voices.
Buy this product at:
As an Amazon Associate we earn from qualifying purchases.