Academics' Choice Award™ Winner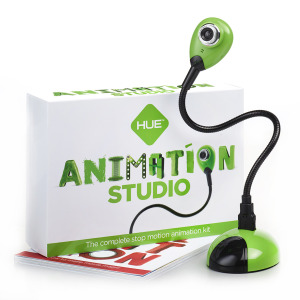 HUE Animation Studio
Ages: 7 - 13
Price: $69.95
Type: Software
By
Ascent Information Technology Ltd trading as HUE
Description
HUE Animation Studio includes:
• HUE Animation - user friendly stop motion animation software for children aged 7-13.
• The HUE HD camera - a USB classroom camera.
• The HUE Book of Animation contains 60 color pages of tips for creating movies. Including 17 example videos: https://huehd.com/creations/huebookofanimation/

With the click of a button, students can start animating anything from a favourite toy, Lego figures, clay creations to a 2D drawing. They can then edit images, add sound, text, and special effects. Once the movie is completed, they can save and share it with teachers, family and friends via YouTube, by email and now with a new upload facility directly to www.Creatubbles.com.

The uses for HUE Animation in the classroom or for home schooling are endless. Fostering the 21st century skills of creativity, collaboration, and critical thinking, HUE Animation elicits a high engagement level from students as they plan, execute, and present their creations. It can be used across the curriculum for any subject. HUE Animation also meets the needs of kinesthetic, auditory, and visual learners, and has found great success with students having special needs. It is popular in maker space areas in schools and libraries, and as a tool to teach STEAM subjects.


Review Highlights:
At its heart, Animation Studio is about storytelling. Kids get to develop their ideas and creativity and develop their storytelling abilities in a unique way. Kids learn how stop motion animation works as they use Animation Studio. STEM skills are practiced as kids learn how to utilize the camera and microphone, use the software, and figure out new technology. I love that the product teaches children valuable life lessons like perseverance and patience. Making a stop-motion animation film takes time, drive, and a willingness to keep at it. I like that the Animation Studio kept him engaged and encouraged him to stick with it.
I loved watching my son become a storyteller. Where he tends to become frustrated when working with a pencil and paper, it was awesome to watch him so freely tell his stories. He was inspired - and isn't that the goal as parents and educators - to inspire our kids to learn, grow, and work through their ideas? The product is easy to use—even for beginners and those not as comfortable with technology. The book walks you through the process. I love the way you can begin very simply, and slowly build in complexity and detail as you and your student become more adept at using the software. Younger kids can do something very basic while older students can work at creating special effects, lengthier films, and using features such as the green screen.
The pieces contained within the kit are fantastic. My son LOVED the Hue Book of Animation, and found inspiration in the pages. The camera is flexible and allows the user to create a variety of shots. The included microphone is a great feature. I love the printable storyboards included in the software. These help support children as storytellers- helping them work through their ideas to create stories with clear beginnings, middles, and endings.
Buy this product at:
As an Amazon Associate we earn from qualifying purchases.