Academics' Choice Award™ Winner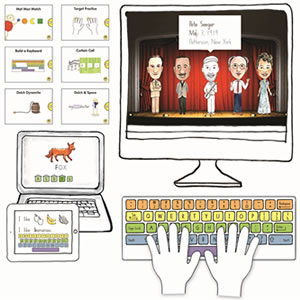 Keyboarding Without Tears
Ages: 5 - 11 | Grades: K - 5
Price: $10
Type: Software, Game
By
Handwriting Without Tears
Description
Keyboarding Without Tears is brought to you by the same company behind Handwriting Without Tears®, which helps millions of students succeed in classrooms all around the world, every year.

We believe in teaching children all the skills they need to succeed in school, and in life. In today's classroom, children spend 15 to 22 percent of their instruction time on technology-based activities, including keyboarding. Most are also expected to produce work on a keyboard by the end of fourth grade.

Students need to master all methods of producing written work to succeed. Handwriting and keyboarding are two essential, life-long skills that work together in the classroom to create an engaged, balanced, and successful learning environment.

We have collaborated with educators and digital media experts to create a keyboarding program that makes teaching joyful and effective. Keyboarding Without Tears was built on the same teaching philosophies that have made our company successful for almost 40 years:

• Our curriculum is developmentally appropriate by grade, ensuring students are ready for skills being taught and meet learning and performance expectations by grade.
• We take potentially complex concepts, like digital citizenship, and make them easy for all children to understand
• We build fine motor skills needed to easily master touch typing
• Game-based activities are full of cross-curricular connections to keep children engaged and challenged

Review Highlights:
Keyboarding Without Tears is a developmentally appropriate, game based tool to teach your child (grades K-5) pre-keyboarding and keyboarding skills. It is very similar in its approach to the award winning Handwriting Without Tears. Lessons are simplified using colored rows and speed and accuracy checks. KWT is simple for a teacher to set up. Teachers can track their whole class or individuals in multiple grades making it much easier for the teacher access student progress. If students become stuck while working on their own, an optional short video will help them along the way.
I liked the ease of set up, the simplicity of the program, and sequence of activities.
I think it's a wonderful way for a child to learn how to use a keyboard properly.
Buy this product at:
As an Amazon Associate we earn from qualifying purchases.