Academics' Choice Award™ Winner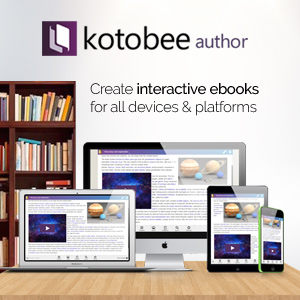 Kotobee Author
Ages: 12 and up
Price: Free (premium price: $300)
Type: Software
By
Vijua
Description
Kotobee Author is an ebook creator software for Windows and Mac allowing you to create ebooks rich with interactive content supported for different formats. Customize the look and feel of your ebook apps, and emulate the result on different platforms and devices. Export your ebook to one of many formats, to have it running on external ebook readers such as Kindle, Apple iBooks, or even the free Kotobee Reader. You can export your ebook as a branded web app to run seamlessly inside the web browser, as a desktop application for Windows or Mac, or even as a mobile app for Android and iOS to have your ebook app sold on Google Play Store or Apple's App Store. . You may as well integrate the interactive ebook as a SCORM component to integrate with your LMS and report student progress back to the LMS.

Kotobee Author also provides larger scale solutions by creating entire e-libraries containing shelves of books. The library can be controlled entirely from an administration interface inside Kotobee Author, such that books are uploaded dynamically, and users are added with appropriate permissions for viewing the ebooks. Kotobee provides a free shared library for any user to share their personal ebooks at: http://www.kotobee.com/library/official. Just like the case with ebooks, the e-library can be exported as a web app, desktop app, or a mobile app, customized and branded as you wish.

Review Highlights:
I'm not so much of a tech geek, but I was able to use this product without much trouble as it's quite intuitive. I like the way many elements can be added into a book, including questions.
Formatting, presentation, flow, and logical sequence are learned and practiced when creating a product with Kotobee Author.
As a blogger and homeschooling Mom, I'm really quite enamoured with this product. I have had ideas for publications in my head for a long while now but was frozen as I didn't know how to get started. Now I'm on my way and it's so incredibly easy to copy and past blog posts and then make changes and adjustments/additions/deletions as required. I'm totally on-board now and looking forward to sharing my frugal life, multicultural recipes kids love, crafts for children's books, and many other topics with the world! Trying out Kotobee Author has given me the inspiration I needed and the motivation to carry through with it now that I know just how easy it is even for a technophobe like me!
Buy this product at:
As an Amazon Associate we earn from qualifying purchases.