Academics' Choice Award™ Winner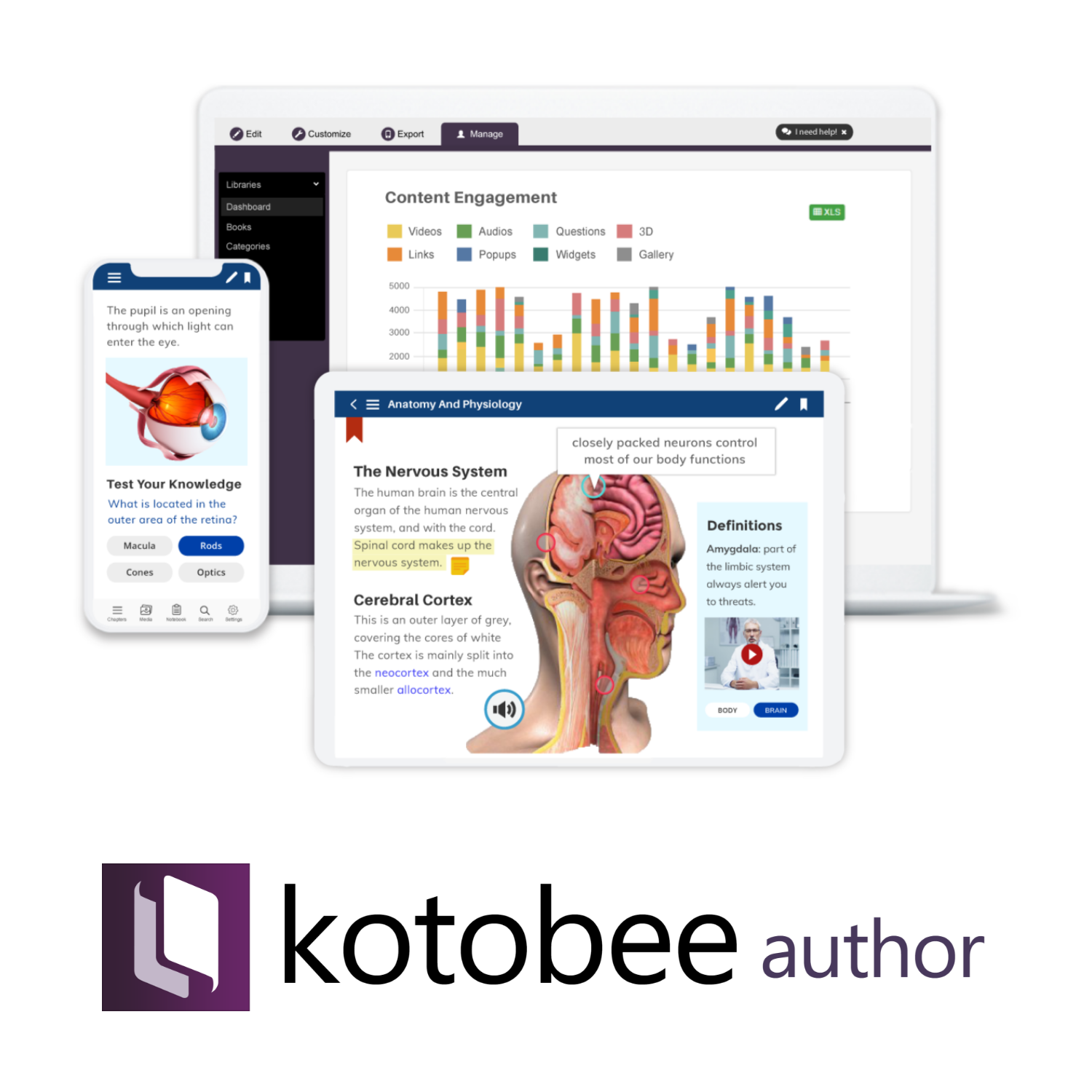 Kotobee Author
Ages: 12 and up
Price: Free (Premium license starts at $150)
Type: Software (Book, Audio, App)
By
Vijua
Description
Kotobee Author is a an interactive ebook authoring tool, suitable for K12, universities, and independent teaching activities. It provides a simple self-intuitive interface to enrich your ebook with interactive content to provided blended learning. Examples of interactive content include: videos, audio, interactive images, slideshows, self-assessment questions, buttons, popups, audio-synced text, 3D models, widgets, and mini-apps.

Kotobee Author allows teachers and educators to export their ebook to more than 12 different formats, saving the cost of using multiple tools to cover a range of target formats. Teachers can also add their own theme design, branding and customization to interactive ebook apps (where a proprietary reader is embedded in the app). This allows teachers and educators to publish apps on the app stores with their institute's brand name, logo, internal look and feel, without any mention of Kotobee. They may as well integrate the interactive ebook as a SCORM package to integrate with their LMS and report student progress back to the LMS.

Kotobee Author allows anyone to create ebooks from scratch and requires zero coding knowledge, while still allowing room for advanced users to script their own functionality. And to make the process even easier, you can create new ebooks using one of Kotobee's Authors' several ready-made templates.

Review Highlights:
This software from Kotobee is incredible! I can make ebooks, apps, interactive content - you name it! It's user friendly and allows me to easily create interactive ebooks for my teaching, especially as the world moves online. I love creating fun content for my students that keeps them engaged. I'm older but I found it easy to navigate and has a lot of options. It's features allow you to import from external sources, smart preview, export to any format, LMS integration, and branding.
There's a lot you can do with this application. I love the personal branding capability of Kotobee Author, and how it allows me to put together an interactive guide for my students to learn about science topics. I'm always on the hunt for different ways to implement fun and stimulating learning styles, and I've found that with this program. Overall, it's pretty simple to use and proves to be a great service for educators.
I'm not so much of a tech geek, but I was able to use this product without much trouble as it's quite intuitive. I like the way many elements can be added into a book, including questions.
Formatting, presentation, flow, and logical sequence are learned and practiced when creating a product with Kotobee Author.
As a blogger and homeschooling Mom, I'm really quite enamoured with this product. I have had ideas for publications in my head for a long while now but was frozen as I didn't know how to get started. Now I'm on my way and it's so incredibly easy to copy and past blog posts and then make changes and adjustments/additions/deletions as required. I'm totally on-board now and looking forward to sharing my frugal life, multicultural recipes kids love, crafts for children's books, and many other topics with the world! Trying out Kotobee Author has given me the inspiration I needed and the motivation to carry through with it now that I know just how easy it is even for a technophobe like me!
Buy this product at:
As an Amazon Associate we earn from qualifying purchases.