Academics' Choice Award™ Winner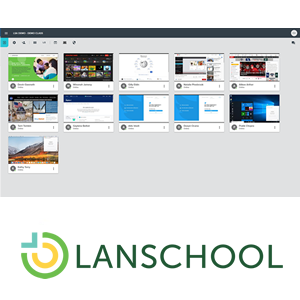 LanSchool
Ages: 5 and up
Price: Varies
Type: Software
By
Lenovo
Description
As a pioneer and innovator of classroom management technology, LanSchool delivers tools that complement 1:1 teaching in connected classrooms. LanSchool guides learning, promotes collaboration, makes the most of class time, and keeps students safe. Our goal is to empower educators to deliver the best student outcomes. As part of the Lenovo ecosystem, LanSchool is uniquely positioned as a key component in a growing end-to-end solution for educators. Our latest innovation includes an integration to manage Lenovo VR Classroom 2 headsets, as well as partnerships with Bark for Schools and DNS Filtering to complement LanSchool's existing safety solutions.

With LanSchool, teachers manage multiple activities in one central location, so they can focus on enabling learning instead of managing devices. LanSchool is available for Chromebook, Windows, and Mac devices and can be hosted in the cloud or locally with a single subscription. This unique model provides flexibility to school districts and empowers administrators to meet the needs of their specific environments.

Key features:
• Push web/apps
• Broadcast screens
• Testing/polling
• Messaging
• Raise hand
• Send/receive files
• Monitor keystrokes
• Review web/app histories
• Limit web/app usage
• Remote control
Review Highlights:
"Guiding learning, promoting collaboration, and maximizing class time." That is what LanSchool is all about, and it delivers. It works on a variety of platforms (Windows, Mac, Chromebooks), cloud or locally-hosted, and the interface is intuitive. One of the impressive features of this software from a teacher's perspective is that you can see what your students are doing on screen in real-time and refocus them back on topic (via remote control, a simple message, limiting apps or sites, blanking/syncing/setting all the screens, etc.). It allows for blended learning while distance learning, and you can even manage students working in different groups on different projects within a classroom. Students can get the teachers attention just like raising a hand in a real world classroom. The teacher and student can then have a one-on-one conversation without disturbing the class. This feature in many ways enables an even better learning experience as less outgoing students can interact with the teacher without other students knowing. Students can also initiate a group chat/discussion among their peers (with the teacher's permission). I love that the teacher can immediately push out a web page or a video to every student in their class simultaneously. The ability to focus students individually and as a group is such an asset. The ability to sync Google Classroom accounts with one-click to LanSchool is a big time saver too!
The future of education will involve remote observation, timely injection and multifunctional guidance, and this software makes it easy.
...the teacher interface is easy to use once installed. The ability to communicate with student(s) while they work, especially when struggling, is innovative, as well as the "show teacher screen" capability to help students better understand concepts. Students can also message the teacher at any time and ask a question. Broadcasting a message to all students at once is also a helpful feature. Teachers can generate, administer and collect quizzes quickly, and even collect homework using the program. Teachers can limit student access to distracting applications and web sites with relative ease. The product does not specifically develop cognitive skills, but can help facilitate such learning. A cloud based installation allows for distance learning courses to be monitored and managed. Classroom teachers and students will benefit from this program, especially those running distance learning courses. It would take several applications to accomplish half of what this software achieves.
Buy this product at:
As an Amazon Associate we earn from qualifying purchases.